America's Favorite Soda Cocktails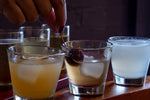 Updated on July 25th 2023
Have you ever thought about making a cocktail with sparkling CBD soda?
Our CBD beverages are the perfect secret ingredient to bring your cocktail to the next level. Some soda cocktails call for classic cola, while others ask for lemonade or ginger ale. No matter what the recipe requires, Colorado's Best Drinks has the beverages to match!
Long Island Iced Tea
The Long Island Iced Tea is believed to have been invented during prohibition so people could enjoy alcohol under the radar.
Despite popular belief, there actually isn't any tea in the Long Island Iced Tea. Instead, it's made of five different spirits, paired with lemon juice and simple syrup. Cola completes the flavor profile.
The ratios of the spirits, as well as the spirits themselves, vary depending on the bartender. That means the alcohol content can be vastly different from one Long Island Iced Tea to the next.
No matter what, it's sure to be delicious, and you can experiment at home to develop your own favorite combinations!
Kentucky Mule
The Kentucky Mule is the cousin of the Moscow Mule. It substitutes vodka with bourbon, creating a smokier and fuller flavor.
Some people like a 4:1 ratio of soda to bourbon, which would really let the flavors of our sparkling CBD sodas shine. Others like a shorter drink to highlight the bourbon.
Whether you like your drink short or tall, the Kentucky Mule is worth a try. Read our additional content for tips on making CBD-infused moscow mules.
Cuba Libre
The Cuba Libre is made of two things: cola and Cuban rum. Bacardi is a popular substitute for rum if you don't have it on hand (or if you just prefer it that way).
Rum and cola is the perfect combination, complementing each other's flavors and bringing out the rich body that both drinks have to offer.
Fill a highball glass halfway with ice. Add four parts rum and the juice of half a lime. Top it off with cola and you're all set!
Black Russian
Some people opt not to use cola in their black Russian, but our cola has the potential to really set the drink apart!
Pour two parts Kahlua and four parts vodka over ice in a short glass. Stir it together and fill the rest of the glass with cola to complete the drink.
Moscow Mule
Rumor has it that the Moscow mule was invented by a bar owner who had more ginger ale than he knew what to do with. Ever since, it has become a staple at nearly every bar.
The Moscow mule is a combination of vodka, lime juice, and ginger ale. It's the perfect drink to showcase our Ginger Ale sparkling CBD soda!
Blue Lagoon
The blue lagoon is made of lemonade, vodka, and blue curacao.
The curacao creates the signature blue coloring, but it surprisingly has an orange flavor. The orange and lemonade mix perfectly to create an unexpected burst of citrus in your mouth that will leave you wanting more.
Paloma
A paloma is a tequila cocktail made of tequila, lime juice, grapefruit juice, and soda water.
Some people are overwhelmed by the grapefruit taste, so feel free to sweeten as needed. Agave syrup, sugar, or simple syrup can all be used to adjust the sweetness to your liking. We're a big fan of using Agave syrup- it's what we use to sweeten our own drinks!
Gin Fizz
If you like vibrant flavors, this is the cocktail for you.
Other ingredients include gin, lemon juice, and simple syrup, creating a sweet yet tart drink.
But the star ingredient is the egg white! Everything is dry shaken and then re-shaken over ice. Lastly, it is strained into a glass and topped off with soda.
The soda is what makes it so light and fizzy. Meanwhile, the egg white creates a unique texture and iconic fizz.
Pimm's Cup
Pimm's Cup is the perfect drink to highlight our Lemonade or Ginger Ale.
The official Pimm's Cup is made with one part Pimm's No. 1 and three parts lemonade. Add some sliced fruit and cucumber to enhance how refreshing it is.
Likewise, you can swap out the lemonade for ginger ale for a richer taste. No matter what, we have you covered.
Americano
The Americano is related to the negroni. It has the same famous red color, and shares the ingredients of sweet vermouth and Campari.
But unlike the negroni, an Americano uses soda water instead of gin. This lowers the ABV, allowing the Americano to become a classic daytime drink and perfect for celebrations.
Gin Buck
Gin cocktails can cause quite the commotion. The gin and tonic is dry and has a strong flavor, while other versions are incredibly tart.
The gin buck serves as a great alternative, relying heavily on ginger ale to provide a level of sweetness that other gin cocktails don't come even close to.
Final Thoughts
Soda really has the ability to bring a cocktail over the edge with an explosion of fizz and flavor.
Put a fresh spin on an old classic! Our CBD sodas are the perfect substitution for normal cola. Made of fresh, natural ingredients, we pride ourselves on the unique experience that comes with drinking our sodas and sparkling CBD waters.
If you don't believe us, try using sparkling CBD drinks as a mixer next time you make a cocktail and taste the difference for yourself!