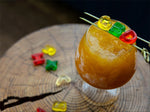 CBD Cocktails, Anyone?
Let's be honest: there's nothing quite like a nightcap to unwind at the end of a long week. Or even a long Tuesday (no judgement here). Sipping a cocktail or two can bring some well-earned relaxation to our evenings. Still, what eases the burden tonight won't always be so kind the next morning, especially if that one drink gets a few refills. Alcohol has repeatedly been shown to reduce sleep quality and increase inflammatory effects in its imbibers. With the gradual relaxation of laws across America regarding cannabis and its derivatives, empirically funded research into CBD and hemp is gradually expanding with many new studies currently underway. 
Portland: To Another Dimension
CBD cocktails are a fairly fresh revelation, but they're quickly gaining traction in American culture. The passage of the 2018 Farm Bill marked a huge step forward for the hemp and cannabidiol industries. Some legislative ambiguities remain regarding the public consumption of non-psychoactive cannabinoids like CBD in bars and restaurants. These gaps have given pause to those running bars in states with tougher cannabis laws, as the use of any ingredient without the clear authority to do so could jeopardize their strictly-enforced liquor licenses. Gaps are expected to remain for about a year while policies are fully fleshed out. Thankfully, many bars and restaurants in states with clearer standards on cannabinoids are already serving up CBD cocktails, and their lucky customers just can't get enough. Portland, Oregon is especially ahead of the curve, offering several hot spots for those seeking drinks with a new dimension. Smallwares in northeastern Portland offers a variety of specialty cocktails for $10, with the option to add 25 milligrams of CBD oil for just three dollars more. Both Mother's Juice Café and Sunny Yoga's Kitchen in nearby Bend also offer three dollar, 25 milligram CBD boosts – blending infusions into any item on their menus, from cocktails and smoothies to salads and entrees. For those who lean toward brews over blended beverages, Coalition Brewing in Portland features Two Flowers IPA - one of the first CBD-infused IPAs in existence. With that said, you don't need to head to the bar to maximize your mellow evening.
Tricks of the Trade
As with the brewing of any concoctions, striking the right balance of elements will result in the optimal outcome. Here are some tips to keep in mind next time you summon your inner cannabinoid-cocktail mixologist: While "the more the merrier" can be a tough take to counter, pace yourself. It's good to start slowly, especially if you're new to something you're consuming. Both CBD and alcohol can cause varying effects in their users, so give yourself a beat to gauge their intensity. Sip, don't chug. Cannabidiol connoisseurs claim that, when mixing CBD with alcohol, a careful ratio maximizes the benefits of both. MarijuanaBreak.com advises against adding too much alcohol to your infused drink, as it drowns out CBD's effects. 15 to 20 mg is a good limit, at least until you learn your own. Please note that this recommended cap is per night, and NOT per refill. If you're looking for a mixer, many will tell you that gin is an excellent choice – especially since cannabinoids and gin both contains natural terpenes, complementing each other divinely. Zsolt "George" Csonka, Bartender and owner of New York City's popular Adriaen Block, takes a different approach. He opts to only mix CBD with beverages that contain lower rates of alcohol per volume. He explains that by doing so, you'll feel the benefits of CBD most acutely. "When putting CBD in a low ABV or non-alcoholic cocktail," Csonka spills, "you can enjoy a drink or two and still go to the gym the next morning. Sherries and sweet amaro-based liquors blend quite nicely."

With our five phytocannabinoid-rich hemp extract rich sparkling soda flavors, all gluten-free, vegan and free of GMOs and preservatives, it's easy to adapt your happy hour order into your own specialty blend. CBD tinctures often leave a taste in blended drinks that can be hard to mask or toast to. By swapping in your favorite sparkling soda flavor for another mixer in your go-to mixed drink, you can nix the taste of tincture and still savor the sweet flavor of our products. And as they're deliverable right to your doorstep, the cocktail of your dreams is finally well within reach. Stay tuned to learn your new favorite, tried-and-true recipes for CBD cocktails. Cheers!