CBD Products Soon Sold at Three Major Drug Stores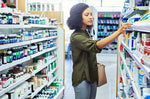 Updated on August 30th, 2023
In 2017, Target dipped their toe into the market of CBD and hemp products in partnership with CW Hemp. CW Hemp formerly concocted Charlotte's Web, named in honor of a young girl with Dravett's Syndrome who became the youngest patient in state history approved for a Colorado medical card. Though Target pulled their product line shortly thereafter, several major drug store chains have announced their plans to feature both types of products in their stores under close supervision by the The Food and Drug Administration. Read on to learn whether CBD and hemp may soon be made available found at the corner store nearest to you.
Rite Aid
Drug stores across the United States have reported decreasing profits from the sale of generic medications. Due to this drop in profit margin, Rite Aid's earnings took a notable hit in the fourth quarter of 2019. Forbes magazine reported that Rite Aid lost $255.6 million from continuing operations in the earning period which ended in March 2019. While top executives had hoped to see a rise in the business's revenues, rates remained almost identical to the prior year, rising from $5.38 billion in March of 2018 to $5.39 billion one year later. A revenue increase of $100,000 for a company of Rite-Aid's magnitude is far from ideal.
Pressure to improve these underwhelming figures and edge out online shopping giants like Amazon have cumulatively motivated Rite-Aid to expand the variety of products available for purchase in-store. Rite-Aid has 2,469 total store locations across nineteen states across America. They've announced their intention to start a pilot program in two of these states - Washington and Oregon - to test the successes of CBD product sales. At stores within these states, Rite-Aid will be vending a variety of CBD-infused topicals including lotions, lip balms and creams.
Walgreens
Much like Rite-Aid, Walgreens is motivated to offer consumers a diverse selection of products to meet the evolving tastes of the American public. Walgreens recently announced that they'll soon stock CBD sprays, creams, and patches at almost 1,500 of their nationwide stores. A variety of other CBD-based products will also be available for sale at locations in nine states - more than any other chain. While infused foods, CBD drinks and products with broad spectrum hemp are not among their new product line, CBD products will soon be available at locations in the U.S. states listed below.
Colorado
Oregon
Vermont
Illinois
Indiana
New Mexico
Kentucky
Tennessee
South Carolina
Walgreens Reporters at CNBC reached out to Walgreens' CEO Brian Faith for a statement about the company's upcoming selection of products containing CBD. Faith responded by stating "this product offering is in line with our efforts to provide a wider range of accessible...products and services to best meet the needs and preferences of our customers."
CVS
If CVS is your preferred pharmacy, keep an eye out for new CBD products among the staples you typically find there. In fact, topical CBD products are already offered in more than 800 CVS stores. So far, these products are available for sale in eight states – Colorado, California, Maryland, Illinois, Indiana, Kentucky, Alabama and Tennessee. To help ensure that all of the products sold are free of THC and contaminants, CVS has joined forces with Eurofins, a third-party laboratory. Mike DeAngelis, a spokesman for CVS Health, stated in an interview that the company is "working only with CBD product manufacturers that are complying with applicable laws and that meet...high standards for quality." CVS currently obtains their stock of CBD products from Crualeaf Holdings Incorporated, as was announced last March by Curaleaf.
Shop Online for Sparkling CBD Drinks
If you're in the market for Sparkling CBD sodas, waters or teas, there's no need to go further than your doorstep. All nine flavors of our Sparkling CBD beverages are available to order throughout the continental United States. Better yet. Every Sparkling CBD beverage option is vegan, non-GMO, and free of gluten, sodium, and preservatives with five ingredients (or fewer) per can. Visit the Sparkling Shop to order Sparkling CBD Hibiscus Water, Sparkling CBD Citrus Water and other refreshing beverage options today!