Three Major CBD Industry Changes to Expect in 2021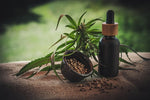 Each year, experts make annual predictions of changes to come within the CBD industry. Despite the unexpected and unprecedented challenges of 2020, pre-COVID industry predictions for the food and beverage markets still rang surprisingly true. If the 2021 forecast holds half of the merit of last year's food and beverage industry claims, we'd be wise to pay attention to the latest CBD industry report as we tentatively picture the coming year and what it could have in store. Read on to learn four significant changes that hemp and CBD industry experts anticipate in 2021.
Crackdowns on Unfounded Claims
A major obstacle facing today's CBD industry are the widespread claims surrounding CBD that aren't always based in reality. Many advocates and retailers take things too far by touting the substance as a "cure all" or claiming that cannabidiol is proven to alleviate the symptoms of countless maladies. As the old adage goes, if something sounds too good to be true, it probably is. The FDA is rumored to impose further CBD industry regulatations in 2021, increasing their stringency on these types of claims to ensure that no consumers are misled prior to their purchases.
Thinner Herd of Retailers
As of today, there are thousands of CBD product options available for purchase, in local establishments throughout the United States or through online stores with local and nationwide delivery options. Unfortunately, many modern-day CBD sellers can't afford to grow the high-quality hemp it takes to make premium products - or to routinely purchase this ingredient from local growers. As such, the intense diversity of CBD-based retailers is expected to decline in the coming year, with only the brands with the highest quality products - and highest customer demand - lasting through this thinning of the herd.
Increased Product Options
While the number of CBD-based brands may be declining throughout the year, product variety within the industry will likely continue to climb. An extensive range of products have already been adapted to incorporate cannabidiol - including CBD beverages, foods, vaporizable liquids, chewing gums, topicals and much more. Time will only tell what other types of CBD products could hit the market in the years to come.
Here's to 2021 - and Everything In Store!
Visit our Sparkling Shop to order a twelve-pack or a forty-eight pack of Sparkling CBD Citrus Water, Hibiscus Water or our other delicious products today. We'll bring a case to your doorstep- ready to savor straight from the can or in these delicious drink recipes. All five flavors of our sparkling CBD sodas (and our two flavored Sparkling CBD water options) are delicious and refreshing. Our products all contain phytocannabinoid-rich, broad spectrum hemp extract. Better yet, each sparkling CBD beverage flavor is vegan, non-GMO, and free of gluten, sodium, and preservatives. PCR hemp extract is one of just five ingredients in every can of Colorado's Best Drinks' sparkling water and soda flavors, and you'll taste that sweet simplicity with every sip.