How to Make the Best Homemade Lemonade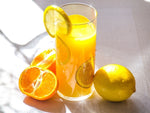 Our Sparkling CBD Lemonade is a fan favorite- perfect for the beach or a barbeque. We came up with this sparkling CBD soda because we wanted to combine our love of CBD drinks with an American classic like lemonade.
But, if you've been following our blog for some time now, you know we love to pay homage to the story behind our CBD beverages! That's why we put together this guide outlining everything you need to know about making your own lemonade.
So drink up and enjoy!
Tips to making the best homemade lemonade
Here are some of our favorite top-secret tips to making the best homemade lemonade.
Use a stand mixer to juice the lemons
Give up the standard hand juicer in exchange for a stand mixer. You'll save time and a hand-ache, but more importantly, your end product will be better.
Along with the paddle beating the juice out of the lemon, it also pulls out the lemon oils. Now you have a base that is even more flavorful than just the juice itself.
If you leave in the pulp and don't strain it, you'll get an extra dose of fiber, vitamin C, and plant compounds that are incredibly healthy for you!
Roast your lemons in the oven
Usually people add sweetener at the end of making lemonade. But if you roast halved lemons for roughly 20 minutes, the lemons' natural sweetness will slowly be drawn out and their tartness will lower. It's kind of like how onions caramelize and their sweetness comes out.
When the lemons cool down, you end up with a flavor that's slightly sweet with some sourness just barely hanging on. Depending on how you like your lemonade, you may not need to add the entire amount of sweetener at the end of the recipe- or even at all!
Add salt
It might sound weird at first, but think about it. Salt on chocolate chip cookies brings out the sweetness of the chocolate, so why wouldn't it work for lemonade? Salt makes citrus taste stronger, yet also less acidic. It will balance out your sweetener perfectly too. Just be sure not to overdo it! A tiny sprinkle will suffice.
How to make lemonade
Now you know our top-secret tricks to making some killer lemonade! But of course, we're not just going to leave you with that.
Time to go over some recipes!
Simple syrup version
You may think that lemonade is just lemons, sugar, and water. But if you just stir those three ingredients together, all the sugar sinks to the bottom.
That's why some people like to make a simple syrup to start, by heating water and sugar and dissolving the sugar completely, and then mixing the syrup with the lemon juice.
You can adjust proportions based on how sour your lemon is and how sweet or strong you like your lemonade to be. Early season lemons are sourer than late-season lemons, and Meyer lemons are sweeter than other lemons.
Start out with a 1:1:1 ratio of sugar, water, and lemon juice.
If you want an intense lemon flavor, zest a lemon and add it to the simple syrup while you make it. When the syrup is done, strain out the zest before adding it to the lemon juice.
Classic version
The best homemade lemonade has the right balance of acidity and sweetness. This is the lemonade that you grew up drinking by the poolside and will make you think of summer childhood right away.
If you ever had a lemonade stand, this was likely the recipe!
For a perfectly balanced lemonade, use these ingredients:
1 cup of lemon juice (10-12 lemons)
½ cup of sugar
A pinch of salt
3 cups of cold water
1 quart of ice
Remember our tips: roast the lemons to get them sweeter and cut down on how much sugar you put in, and blend instead of juice to pull out the oils and keep the pulp!
Lemonade recipes
Here are some unique recipes that you can create by using lemonade. Our Lemonade CBD soda makes for the perfect drink while enjoying these recipes!
Lemonade drumsticks
If you want to cook something really fun, combine lemonade and fried chicken for a taste you won't forget! Soak drumsticks with their skin on in a lemonade marinade overnight before you coat them with panko. If you cover the drumsticks in mayo before you add the panko, it'll distribute more evenly.
Lemonade pinwheels
These fun cookies are bound to cheer you up no matter what mood you're in! Put layers of plain cookie dough, and cookie dough with lemonade in it, on top of each other. Roll them up into a long log. Chill in the fridge for a few hours, and then slice and bake! Roll your log in white and yellow sanding sugar before baking for an extra touch.
Grilled lemonade chicken
Here's the secret marinade: lemonade, mustard, garlic, dried onion, oregano, cumin, and of course- salt and pepper. This creates a sweet and zesty marinade unlike anything you've ever tasted! It'll be a crowd-pleaser and something you cook again and again. Grill up some lemon halves to serve with the chicken to really make a full platter.
Final thoughts
We understand that as good as our Lemonade CBD soda may be, sometimes you're just going to want some good old-fashioned lemonade.
We hope our tips helped you out and even inspired some new ideas for you to try!