How to Make the Best Root Beer Float at Home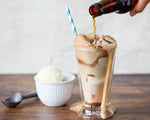 The root beer float made using Sparkling CBD Root Beer is an iconic taste treat that's sure to be a hit with people of all ages. Cool and creamy, it's the ultimate soda-based confection and expertly balances the two main ingredients to create a whole that is greater than the sum of its parts. If you're looking for a classic drink that will rock taste buds all year long, you can't get better than the root beer float. While we're partial to our own CBD sodas as stand-alone beverages, we have to admit, there's something about pairing it with some high-quality vanilla ice cream that's irresistible.
If you'd like to know how to create the ideal root beer float at home you've come to the right place. In this post, we're going to take you through all things root beer float, including the history and how to make it. We'll also touch on some compelling variations of the classic root beer float recipe.
The History of the Root Beer Float
When people think of classic American dishes, they tend to think of hamburgers, cheeseburgers, apple pie, fried chicken, meatloaf, and the like. When their minds wander toward contemplating classic American liquid refreshments (of the non-alcoholic kind) they conjure up thoughts of apple cider, milkshakes, and soda pop. But is there any more iconic American concoction than the root beer float? We think not. So let's take a deep dive into this crowd-pleaser and see what's behind it.
The Root Beer Float
The classic root beer float consists of vanilla ice cream and your favorite root beer, which in this case we're sure is our Sparkling CBD Soda Root Beer. Legend has it that the ice cream float was invented in 1874 in Philadelphia as part of the festivities marking the 25th anniversary of the founding of that city's Franklin Institute.
The man credited with the invention was one Robert McCay Green who operated a soda fountain near the institute and who wanted to attract some of the foot traffic related to the celebrations to his business. One day after running low on flavored drinks and realizing he was losing customers to competitors with bigger, fancier soda fountains he began experimenting. That experimentation led him to purchase some ice cream from a neighboring shop and combine it with his carbonated fountain beverages, and the ice cream soda was born.
Green was so proud of his accomplishment that he wrote into his last will and testament that the phrase "Originator of the Ice Cream Soda" had to be engraved on his headstone.
But What About Green's Ice Cream Soda?
Although Green's ice cream soda was the clear predecessor of the root beer float it wasn't a root beer float. Green used vanilla ice cream, carbonated water, and any one of 19 different flavored syrups to create his ice cream sodas, but none of those flavors was root beer.
The honor of creating the root beer float goes to one Frank J. Wisner, and surprise, surprise he was yet another enterprising resident of Colorado where so much innovation has occurred. Wisner owned the Cripple Creek Brewing Company and one night while musing over the beauty of the Rocky Mountain landscape he was inspired to mix vanilla ice cream with root beer.
The date was August 19, 1893, which Wisner noted as the day he invented this now legendary confection. His invention, which he dubbed the "Black Cow" is still with us nearly 130 years later and more popular than ever. It even inspired the song of the same name by rock legends Steely Dan off of their multi-platinum album "Aja".
But enough history. Let's get down to the nitty-gritty of how to make the perfect root beer float.
Root Beer Float Recipe
As far as ingredients go there are no secrets when it comes to the root beer float. All you need is some quality vanilla ice cream and some quality root beer. In this case, you'd be wise to choose CBD Beverages Root Beer. It has a smooth traditional flavor with none of the sugar you get in other brands. That said, the other key to creating the perfect root beer float (besides quality ingredients) is how you construct it. Here's how you do that…
Use traditional beer mugs and pop them in the freezer for about 20 minutes before using them.
Add high-quality vanilla ice cream and press it down into the glass.
Pour the Sparkling CBD Root Beer over the ice cream.
Some say you should pour in the root beer first, but that is where they are mistaken. Always put the ice cream in first and then pour the root beer over it. This will produce the ideal creamy froth that separates the world-class root beer float from the run-of-the-mill type. After a few minutes the ice cream will rise to the surface, hence the name root beer "float". Enjoy!
Variations on a Theme
Just to show you that we aren't root beer snobs, here are some variations on the traditional root beer float recipe that will wet your whistle.
The Brown Cow - Okay, we needed to do one more with root beer. In this case, you will use chocolate ice cream rather than vanilla.
The Black Cherry Cow - For this variation, you will use Black Cherry CBD sparkling soda. It's a memorable variation that those with a sweet tooth will crave.
The Boston Cooler - For this east coast variation swap out root beer for Sparkling CBD Soda Ginger