Rising Number of Breweries Boasting Hemp and CBD-Infused Beers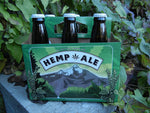 It goes without saying that the number of hemp and CBD industries has increased in the recent past. From coffee to cocktails, to our scintillating selection of sparkling sodas, the beverage industry offers a growing variety of hemp-infused products to hit the spot. The craft brewing industry is no exception. This is no surprise to those well-acquainted with both hemp and hops. Both hops and cannabis come from the plant family Cannabaceae, and the two share notably similar chemical compositions and flavor profiles. The cannabis industry – and the popularization of its derivatives – has long been painted as the natural rival to the field of alcohol production. Perhaps that's why their coupling is such an exciting turn – pairing craft beers with broad spectrum hemp is truly a match made in hops heaven. Below we'll review the latest companies to infuse hemp and CBD into their brews.
Dads and Dudes Breweria
Aptly named after the first American president, George Washington's Secret Stash sets a precedent of its own as America's first federally approved CBD-infused beer. Concocted by Dad & Dudes Breweria in Aurora, Colorado, this sativa IPA is infused with 4mg of CBD. The tasty IPA's creators are pioneers of the hemp extract and CBD beverages industry, serving up their brews since 2015 while fellow brewers have gradually followed suit. The founders at Dad and Dudes are proud of their efforts to destigmatize the industry of cannabis and its non-psychoactive derivatives. In the words of one founder, Mason Hembree, "we're slowly normalizing it by bringing in those names and explaining what they are."
New Belgium
Fort Collins, Colorado's beloved brewery, New Belgium, has crafted a fresh creation with Hemperor IPA - or HPA, as they've cleverly categorized it. A press release emphasizes that this was a long-term effort, as the company worked for over two years to understand and successfully navigate hemp's confusing legislative conditions. This project has opened the company's eyes to the hemp industry's benefits and complexities. The project ultimately led them toward advocacy for hemp's legalization efforts. A portion of the profit from each barrel sold of the Hemperor is said to fund advocacy for hemp's full legalization at the Federal level.
Lagunitas
Tony Magee, CEO and founder of Lagunitas Brewing Company, has been open about his love of cannabis in the past. The company releases a special brew on 4/20 each year, all of which are collectively dubbed Waldos' Special Ales. Magee also created Undercover Investigation Shut-Down Ale. This serves as a not-so-subtle toast the company's alleged onsite marijuana consumption, and their subsequent investigation.Lagunitas has since created a SuperCritical Ale infused with some of the terpenes found in hemp.
Ceria
Keith Villa founded the well-respected Blue Moon Brewing Company more than twenty years ago. In 2018, he embraced the modern wave of hemp-infused products in a fresh concoction by Ceria, a new brewing company headed by Villa and his wife Jodi. Unlike the others mentioned here, Ceria's brews contain THC in addition to non-psychoactive hemp and CBD. By working with the research company Ebbu, Villa believes he's reached peak quality in each of his THC-infused beverages. With three varieties introduced over the 2018 holiday season, each blend offers a differing level of potency, to cater to each consumer's desired effects.
Run the Jewels
The hip-hop duo Run the Jewels has recently underscored the "hops" of their genre by teaming up with Brooklyn's Interboro Brewing Company. Together, they've created two IPAs called "Stay Gold" and "Double Down," a pilsner called "Legend Has It," and the "Panther Like a Panther Stout." "Legend Has It" has joined the ranks of the beverage revolution, as it is among the first brews to be infused with CBD extract.
Xylem Cider
Beer not your thing? Looking for something sweeter to sip? You should order a case of Colorado's Best Sparkling Soda to hit the spot. But if you're looking for a buzz while you wait for its delivery, Xylem Cider may be exactly what you need. Based in Oregon, this company offers terpene-rich ciders on an alternating weekly rotation. With clever names like INDICAtion, Hashtag and Blunt Tool, it's hard not to be sweet on the brand. Co-founder Nick Fillis explained their mission in an interview with High Times last year. "What we're doing is we're using terpenes to mimic that flavor and aroma of cannabis plants without the THC," shared Fillis. For a relatively new company, Xylem Cider is already making a name for itself, with ciders served up at 50 Oregon bars and eateries.
Here's to Hemp-Infused Drinks!
Our Sparkling CBD beverages products all contain phytocannabinoid-rich, broad spectrum hemp extract and can be delivered right to your doorstep. All five flavors of hemp CBD water are delicious and refreshing. Better yet, each sparkling CBD soda flavor is vegan, non-GMO, and free of gluten, sodium, and preservatives. PCR hemp extract is one of just five ingredients in every sparkling CBD soda can, and you'll taste that sweet simplicity with every sip.