Six CBD Cocktail Ideas for the 2021 Holiday Season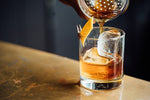 The holidays are a time to celebrate with friends and family but they're also a time to unwind and sit back, cocktail in hand, to reflect on this year- and what a year it has been. Whether you're craving the heavy, spicy, comforting flavors of a long fall or want to lighten up the winter with a lightly sweet, effervescent CBD beverage this list is here to help you come up with just the right cocktail to celebrate your holidays this year.
ONE: Cranberry Ginger Fizz
Few flavors exemplify the holiday season more than Juniper and Ginger. However, a gin fizz is typically considered a more summery drink due to its light color and refreshing taste. Add a splash of unsweetened cranberry juice for a richer color, though, and you have something worthy of the holidays.
Ingredients
1 oz Orange and Cinnamon Simple Syrup
3 tbsp Unsweetened Cranberry Juice
1.5 oz Gin
Ginger Ale to Top (Here you could sub in Ginger Ale Sparkling CBD Soda.)
Crushed Ice
Garnish with Sugared Cranberries or Orange Slices
Instructions
Mix all ingredients in a shaker and strain into a glass. Garnish.
TWO: Ramos Gin Fizz
Plenty of us think of pie when it comes to the holidays- and it often seems that the most divisive types of pie are those that feature meringue. For the fans of it, there is one classic cocktail that comes close to producing this same frothy, creaminess: The Ramos Gin Fizz.
Ingredients
2 oz Gin
1 Large Egg White
¾ oz Heavy Cream
½ oz Lime Juice
½ oz Lemon Juice
½ Oz Simple Syrup
Dash of Orange Flower Water (aka Orange Blossom Water)
An Ounce or So of Club Soda or Seltzer, to top (Lime or Lemon-Lime Soda, including CBD drinks, can be used here to give the cocktail a more distinct lime flavor.)
Ice
Instructions
Add all ingredients except the soda and ice to a shaker and shake for 10 to 30 seconds. Add ice and shake for an additional 15 to 30 seconds. Pour into a glass. Add the soda or seltzer to the shaker and use that to wash any residual foam into the glass to top the drink up.
THREE: Millionaire
With its bright red color and the traditional dusting of nutmeg at the end, the Millionaire is a cocktail that can fit the holiday mood without being too spicy or heavy. This cocktail also uses bourbon, which is a great choice for when the weather turns a little colder. Especially if you're not fond of gin.
Ingredients
2 oz. Bourbon
1 oz Grand Marnier
¼ oz or several dashes of Absinthe
½ oz Grenadine
½ oz Lemon Juice
1 Egg White
Ground Nutmeg
Ice
Instructions
Place all ingredients except nutmeg and ice in a shaker and shake vigorously for at least 15 seconds. Fill the shaker a little over half full with ice and shake again for at least 30 seconds. Strain and pour into a glass. The egg white should be foamy.
FOUR: Winter Sangria
Most people know sangria as a summer drink for all types of outdoor parties. This is an easy-to-make drink for large groups that's not fussy and keeps for quite a long time. The winter variation of sangria is no different in this respect. Winter sangria keeps a lot that people love about the cocktail and adds several "warming" flavors like fresh rosemary, ginger, and cinnamon.
Ingredients
2 Pears or Apples or a Combination
1 Orange
1 Cup Fresh Cranberries
2 Bottles of Dry White or Red Wine
2 Cinnamon Sticks
2 Sprigs of Rosemary
24 Oz. Ginger Ale, Added Before Serving ( Sparkling CBD Soda works well here.)
¼ C. Brandy or Grand Marnier (Optional)
Instructions
Chop pears and/or apples into small 1/2" cubes. Slice the oranges. Mix all ingredients except the wine and ginger ale into a large pitcher or punch bowl and stir to combine them. Add the wine. Cover and refrigerate for at least 2 hours or up to overnight. Add the ginger ale before serving or as an option to top up each glass.
FIVE: Winter Berry Cocktails
For an even brighter take on the holidays, or even something that could have a place at the New Year's table, try these sparkling berry cocktails. Including fresh fruit and a sugared rim, these are sure to please anyone with a sweet tooth. Choosing to add our sparkling CBD soda in black cherry to the mix can further boost the berry flavor.
Ingredients
2 oz. Cranberry Juice, unsweetened
2 oz. Apple Juice
½ oz. Grenadine or Strawberry Syrup
2 oz. Champagne or Sparkling Wine
2 to 4 oz. Sparkling Water or Soda (Black Cherry Sparkling CBD Soda is excellent in this blend.)
Fresh or Frozen Berries for Garnish
Water and Sugar for Coating the Rim of the Glass
Instructions
Wet the rim of a glass and dip in sugar. Fill the glass with the juices and syrup. Stir. Add the fruit, then the wine or champagne, and finally fill the glass with sparkling soda or water to the desired level.
SIX: Peppermint Bark Mimosas
Prosecco and peppermint. Could there be a lighter, more refreshing combination? With the sparkle of the prosecco and the sharpness in mint, this could be the drink that helps you stay awake for another lovely holiday evening after an early holiday morning preparing for it.
Ingredients
3 to 6 oz. Peppermint Vodka or Peppermint Schnapps
1 Bottle Prosecco or Champagne
Crushed Candy Canes and Semisweet or Dark Chocolate for Garnish
Instructions
Melt chocolate in a shallow bowl and crush the candy canes. Dip the rims of the glasses into the melted and slightly cooled chocolate, then into the crushed candy canes. Allow to cool and set. Add 1 to 2 oz of the peppermint schnapps or vodka to each glass. Fill the rest of the glass to the desired level with prosecco or champagne.