Six of the Best Poolside Cocktails for Summer 2022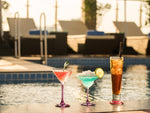 Summer 2022 is just around the corner, and this year everybody is determined to make the most of it. So they're sprucing up the yard, washing down the deck, cleaning the pool top to bottom and planning Memorial Day and 4th of July get-togethers. Like everybody else, those of us at the CBD Beverage Blog live for the summer, and like most other folks we also enjoy poolside beverages – from our CBD drinks to a well-crafted summer cocktail.
The Six Best Poolside Cocktails For 2022
Nothing says summertime fun quite like sipping on a cocktail while sitting poolside with family and friends. In anticipation of the good times to come, our CBD Beverage Blog team has compiled the following list of the best poolside cocktails for 2022. Enjoy!
Drink #1: Long Island Iced Tea
Where else could we start but with this modern American summertime staple. The Long Island Iced Tea has very little to do with iced tea and everything to do with knocking the unsuspecting back in their seats. This is the M-80 of cocktails, so if your tolerance for alcohol is less than robust, you might want to steer clear. And even if you are a card-carrying member of the high-tolerance club, remember to turn your car keys over to a designated driver before you tip one of these back. That said, here is how to make it.
Ingredients
1 oz vodka
1 oz gin
1 oz tequila
1 oz rum
1/2 oz Triple Sec
1/2 cup Sparkling CBD Cola
2 tbsp fresh lemon juice
Lemon wedge
Ice cubes
Directions
Nothing fancy here, just
Fill your cocktail shaker with ice
Add the vodka, gin, tequila, rum, Triple Sec, and lemon juice
Cover and shake vigorously
Pour into a tall glass or beer mug
Top up with cola
Garnish
Enjoy!
Drink #2: Cucumber Margarita
Margaritas and hot weather go hand in hand. They've been a staple of seaside bars and pool parties for decades, meaning that the venerable cocktail is ripe for a re-imagining of sorts. In that spirit, we present the Cucumber Margarita. Talk about refreshing! This poolside cocktail will have your guests clamoring for the recipe from the first sip. Here's how you make it.
Ingredients
2 1/2 oz of Cucumber Tequila (it's out there, you just have to find it)
1 oz simple syrup
1 oz lime juice
1 slice of cucumber for garnish
Salt
Ice
Directions
Wet the rim of your Margarita glass and dip it in a saucer of salt
Allow to dry
Once dry fill the glass with ice
Add the Cucumber Tequila, lime juice, simple syrup and ice to a shaker
Shake well
Strain into the salt-rimmed glass
Garnish
Enjoy!
Drink #3: Mojito
The Mojito is a Cuban Highball born in Havana at an uncertain time in the misty past. Legend has it that this drink derives from the locals' search for a cure for various tropical diseases, but that can't be proven any more than it can be proven who invented the drink. Suffice to say that we all owe a debt of gratitude to some shadowy Caribbean figure for creating one of the truly great summertime cocktail classics. Here's how you make this uber-tasty Cuban cocktail:
Ingredients
6 oz rum of your choice
4 oz fresh lime juice
4 tbsp sugar
Mint sprigs
Club soda
Lime slices for garnish
Ice
Directions
Fill your shaker with ice
Add rum, lime juice, sugar, and several mint sprigs
Pour into a highball glass
Top up with club soda
Garnish
Enjoy!
Drink #4: Rum and Cola
It was only a matter of time before we circled around to this summertime classic. The Rum and Cola is one of the most popular of summer cocktails because it's A) refreshing and B) you don't have to be a mixologist to make it. When you create your R&Cs this year using our Sparkling CBD Soda instead of traditional cola options, your friends are going to wonder what you did to put such a delicious spin on such a well-worn original. Here's how you make it:
Ingredients
2 oz rum of your choice
Sparkling CBD Cola
Ice
Directions
Fill a Highball glass with ice
Pour in the rum
Top up with cola
Stir gently
Enjoy!
Drink #5: White Spritz
The Spritz can trace its origins back some 150 years to Northern Italy. At that time visitors from other European countries were said to have found the Italian wines too strong and so added a spritz of water to them to dilute them a bit, though exactly who was the first to do so is lost to history. Luckily the Spritz survived its uncertain upbringing and is now a staple of the summertime pool circuit like our beloved CBD beverages. Here's how you make the White Spritz.
Ingredients
4 oz Prosecco (chilled)
1 oz St Germain Liqueur
Slice of orange
Lemon peel
Seltzer water
Ice
Directions
Fill a wine glass with ice
Add the Prosecco
Add the St Germain Liqueur
Top with club soda
Garnish with lemon peel and orange
Enjoy!
Drink #6: The Gin Buck
Before the Moscow Mule, there was a similar cocktail called the Gin Buck. Fortunately, the rise of the Mule did not banish the Buck to the nether regions of mixology. It's still here to be enjoyed in all its refreshing glory. That said, here's how you make this venerable poolside favorite.
Ingredients
2 oz gin of your choice
Sparkling CBD Ginger Ale
Lemon slice
Ice
Directions
Add ice to a Highball glass
Pour in the gin
Top up with CBD Sparkling Soda Ginger Ale
Garnish
Enjoy!