Six Things You Can Do With Watermelon Rinds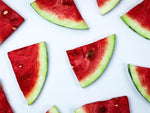 One of our favorite sparkling CBD sodas is our watermelon flavor. It's just so refreshing on a hot summer day, with a taste so sweet that your lips will pucker!
When we think about our Sparkling CBD drinks, we think about their shining ingredients. And in this case, the watermelon has a very overlooked partner in crime: its rind.
So we wondered. Why do we throw out watermelon rind? Is it inedible? How can it be used?
Who knows: after this article, we might just create a watermelon rind CBD beverage!
Potential health benefits of watermelon rind
The watermelon rind, something we usually throw away, actually has a lot of potential health benefits!
Skincare. Lycopene and flavonoids, two kinds of antioxidants, reduce oxidative stress and the effects of free radicals. This helps the skin age well.
Blood pressure. The high levels of potassium in watermelon rinds help reduce strain on arteries and blood vessels. This can help you down the line, lowering your risk of heart diseases, strokes, and heart attacks.
Immune system. Over 30% of your daily vitamin C requirement can be found in a single cup of watermelon rind! Vitamin C is great for the immune system by stimulating the production of white blood cells.
Weight loss. Watermelon rind is both low in calories and high in fiber. This helps you feel fuller and boosts your metabolism.
How to use watermelon rind
Now that you know about the impressive potential health benefits of the often-forgotten watermelon rind, let's talk about how to use it!
Pickle it
Watermelon rind pickles are a simple, refreshing summertime snack that leaves nothing to waste. It's perfect as a side to grilled dishes or in a salad.
Peel and remove the green portion of the rind. Cut the rest into 1-inch cubes.
Boil spices, salt, ginger, sugar, water, and apple cider vinegar.
Add the watermelon and let cool for half an hour.
Transfer everything to a jar.
Refrigerate it overnight and you're good to go!
Candy it
While watermelon rind may not be particularly tasty raw, it's certainly delicious candied! The best way to make something taste good is to add some sugar. And it's better than composting or throwing away your rind.
Remove the green portion of your rinds.
Stir together watermelon rinds, water, and salt.
Bring water and sugar to a boil.
When the sugar dissolves, add the rinds.
Simmer for 20 minutes and transfer the rinds to a baking sheet.
Let them dry for about two days. You can leave them in the sun to dry if you'd like.
Use it in a smoothie
Watermelon rind smoothies are both tasty and healthy. Our recipe is vegan and gluten-free without any added sugar. Watermelon rind is also very filling, so this smoothie won't leave you feeling empty!
Cut the watermelon rind into small pieces.
Add the rind, cucumber, grapes, and any other fruit you'd like into the blender.
Pulse. Add some water and pulse again.
Add more water until you reach the consistency you like.
Put it in a fancy glass and serve!
You can also use your favorite non-dairy milk instead of water if you want a creamier smoothie.
Make a preserve
Who doesn't love a good preserve? Made in the summer and meant to last through the winter, a watermelon rind preserve will remind you of sunny days when all you see is snow.
Peel off the green part of the rind. Slice into 2-inch pieces.
Soak in water and salt overnight.
Place rind in fresh water and boil for 30 minutes.
Combine sugar, water, cinnamon, cloves, and sliced lemons in a large pot.
Boil the syrup for 5 minutes.
Add the rinds and cook until transparent.
Put preserves into hot sterile jars and seal.
Make a gazpacho
Gazpachos are a hidden gem and are certainly worth the try, even if the sound of cold soup isn't particularly appealing to you. Watermelon rind can replace cucumber in any gazpacho. Give it a shot!
Place watermelon rind, red onion, and garlic in a food processor.
Blend until finely chopped.
Add watermelon, basil, tomato, red wine vinegar, olive oil, pepper, and salt.
Blend again to your desired consistency.
Refrigerate overnight to let the flavors fully marinate.
Garnish and enjoy!
Watermelon rind curry
This traditional Indian curry is known as tarbooz ke chilke ki sabji. It's a specialty dish from the state of Rajasthan. The rind soaks the flavors right up, so you have to be careful when spicing the curry!
Melt ghee on medium heat.
Add cumin seeds. Once they start to splutter, add ginger, serrano pepper, and garlic.
After a minute, add salt, turmeric, paprika, amchur, coriander powder, and paprika.
Add watermelon rind and water.
Cover and cook for 5 minutes, stir, and cook for another 5 minutes.
Add garam masala when the rind gets soft.
Cook for a few more minutes.
Serve!
Final thoughts
Watermelon Sparkling CBD Soda is among our most popular flavors. But it got us thinking...what about the rind?
There are many potential health benefits to watermelon rinds: skincare, immune system, blood pressure, and weight management.
But wait, there's more! There are plenty of delicious ways to prepare watermelon rind. Some of these recipes put our watermelon Sparkling CBD soda to shame!
So if you love our watermelon flavor, you have to try cooking with watermelon rind. You'll be shocked!