The Most Popular Cocktails in 2023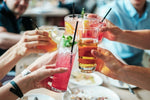 Much has changed in the past year or so - including which cocktails are hot and which are not. To make sure you are fully informed when you saunter up to the bar, here are eight cocktails that are all the rage this year. Enjoy!
Espresso Martini
What do you get when you combine the raw kick of vodka with the adrenaline shot of a triple espresso? Why an Espresso Martini of course. Nobody should really be all that shocked that this drink has gained in popularity over the last year. After all, it has the kind of kick that's tailor-made for snapping one back to reality. Rumor has it this drink was invented in London. Frankly, we don't care where it came from, just bring it on! Here are the ingredients used to make it:
2 oz vodka
1/2 oz coffee liqueur
1 oz freshly brewed espresso
1/2 oz simple syrup
Garnish with coffee beans (optional)
Dark and Stormy
The Dark and Stormy is sort of like the Moscow Mule for pirate lovers. This Caribbean staple is an island drink that's managed to find favor this year in bars from Brooklyn to Brentwood. The D&S is a highball cocktail that features ginger beer and dark rum. As we said it's not unlike a Moscow Mule except there's no vodka and no copper cup. Here's what you need to make it.
2 oz dark rum
5 oz ginger beer (substitute our Sparkling CBD Soda for a lighter touch)
1/2 oz fresh lime juice
Garnish with lime wedge
Dry Martini
The classic Dry Martini is one of those cocktails that just won't go away. And why should it? It's simple, refreshing and comes with more cultural history attached than some museums. You won't find the dry martini being served much on Caribbean islands. But you will find it in those dimly lit, well-appointed clubs where high-salaried types rub elbows. Here's what you need:
3 oz gin
1/2 oz dry vermouth
Juice from lemon peel
Garnish with olive
Moscow Mule
The Moscow Mule has been steadily rising in popularity over the past decade. We suspect it has something to do with the copper cups the drink is served in. Or it could be a consequence of the incredible versatility of the drink (there are literally dozens of regional and national variations these days and the number keeps on growing). Here's what you need to make it:
1 1/2 oz vodka
1/2 oz lime juice
4 oz ginger beer
Copper cup
Garnish with lime slice
Blue Long Island Iced Tea
The Long Island Iced Tea has a well-deserved reputation for being a down and dirty butt-kicker. A bully of a cocktail that takes no prisoners. But there's no reason even the big bully of the cocktail block can't undergo a bit of a makeover. To give this emerging favorite its cool blue hue just add some blue curacao, a French liqueur that's not that hard to find. Here's the full list of things you'll need to make this slightly more polite version of the Long Island classic.
1/3 oz white rum
1/3 oz tequila
1/3 oz gin
1/4 oz vodka
1/4 oz sweet and sour mix
1/3 oz blue curacao
1/2 oz Sparkling CBD Soda( Ginger Ale)
Lime wedge
Old Fashioned
This is another venerable cocktail that has retained its popularity while countless others have risen and fallen. The Old Fashioned is typically served in a lowball glass with 1 or 2 big bold ice cubes. It's a well-balanced cocktail that packs plenty of punch without being crass about it. Here's what you need to make it.
1 1/2 oz bourbon or rye whiskey
1 sugar cube (brown)
2 dashes angostura bitters
Dash of Sparkling CBD Soda
Cuba Libre
Some people claim that the Cuba Libre is just another rum and Coke. Don't believe it. This simple but flavorful cocktail takes the R&C and does it one better by adding fresh lime juice and passing on the Coke in favor of our CBD soda's clean, thirst-quenching Cola flavor. The overall effect is of a much lighter and more well-balanced cocktail that's both easy to make and surprising, while retaining a bit of familiarity. Here are the ingredients.
1 1/2 oz white rum
1/3 oz fresh lime juice
4 oz CBD Drinks Sparkling Cola
Garnish with lime wedge
Daiquiri
On the surface, it might seem weird that the Daiquiri has risen in popularity over the past year. But if we think about it a bit it actually makes sense. There aren't many cocktails that are more closely associated with tropical isles than the Daiquiri. And since most people were forced to give up their island vacas this year they're ordering Daiquiris to remind them of what was and, more importantly, what will be. Here's what you need to make it:
2 oz light rum
1 oz fresh-squeezed lime juice
1/2 ounce simple syrup