Experts Predict Six Changes to Come in 2020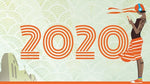 Edibles Expanding
Traditional forms of CBD are a thing of the past, with consumers growing hungry (and thirsty) for new forms of consumption. That's why innovators of products with cannabidiol or broad spectrum hemp extract are expected to thrive with rising customer support. Jay Hartenbach, CEO and co-founder of Medterra, spoke to the impending market shift. "In 2020, we can expect to see a continued focus on innovation within the industry, from varying strain types like CBG and CBN, to the creation of new delivery methods that enhance the efficacy of CBD at an incredible rate. We're also seeing the development of functional products and products that pair CBD with natural ingredients like turmeric and ginger, as well as broad-spectrum, all of which will evolve and improve the consumer experience."
Hastened Gratification
Whether you're consuming THC or other forms of the cannabis plant, the delayed onset of edibles isn't for everyone. It's high time to cut the weight short on this otherwise excellent mode of consumption, bringing users the best of both worlds. Says Azuca's CEO, Kim Rael, "We are going to see a strong interest in fast onset edibles and ingestibles for people who don't want to smoke or vape, but also who don't want to wait the 45 minutes to 90 minutes that traditional edibles take."
Increased Education
There's an epidemic of misinformation and diminished credibility in cannabis-related industries, imbuding well-earned trust issues among crowds of otherwise loyal and enthusiastic fans. It's always important to know that the creators of products you're purchasing have accurately reported their benefits, to avoid falling prey to false promises by snake-oil salesmen of our era. The life-threatening issues faced by buyers of dangerous off-brand JUUL cartridges underscore how crucial it is to stick with name-brands you can truly trust. As they say, hindsight is 2020 – and this year is sure to see a rise of discerning customers who study up before they buy. ZoneIn CBD's Amit Rikhi shared her two cents - "you're going to see a lot more education and a lot of companies trying to get across that trust bridge. You're going to hear a lot more about COA (Certificate Of Analysis) in the market. The market is going to become a lot smarter, and more companies are going to re-test products to make sure that consumers are safe."
Greater Earnings, Less Growth
2019 saw a rapidly expanding bubble of cannabis, hemp and cannabidiol – with projections and expansions often seeming too good to be true. This was for good reason – many excited entrepreneurs jumped on the cannabis bandwagon with more gusto than long-term viability, and unfortunately, many of these brands just couldn't keep up. The fierce competition of a rapidly expanding market outgrew the demands of customers, plentiful as they were. This isn't to say that cannabis, hemp, and CBD-related products won't remain an economic staple – just that the most stable sellers will lead the pack and rake in income accordingly.
According to Nancy Whiteman, CEO of Wana Brands, "many cannabis businesses will shift their focus from growth at all costs to creating viable, profitable businesses. That may mean slowing down their growth and making other hard choices, but ultimately it will result in a more stable and more sustainable industry. That will enable investment in innovation and increased product effectiveness, with a tight focus on creating a better experience for patients and customers. At the end of the day, superior products coupled with strong business practices is where the industry needs to head."
Increased Involvement of the Deaf Community
Angela Panks co-founded Home Grown OregonicX. As a Deaf American and prominent business owner, she spoke to the projected rise of cannabis-industry involvement among members of the Deaf community within the United States. "Our community is starting to understand the medical benefits of cannabis, and we're developing the language that will give us more jobs and education. There are so many deaf people who want to work in the industry and so many industry people who want to give job opportunities to the deaf community."
2020 Terpene Talk
Cannabis, CBD, hemp extract and dozens of other organic substances have something big in common – the presence of all-natural terpenes. We discussed the basics of terpenes, and the most popular variations, in a prior blog article. Thankfully, conversations about terpenes are expected to rise throughout the coming year. "Many cannabis consumers still have no idea what terpenes are, even though they make up a major aspect of the cannabis consumption experience," says R+D Director Brian Rice. "In 2020, we'll see more mainstream conversations about terpenes, and more awareness of what terpenes are and why they're so important. With that, we'll also see more discussion about the different compounds in cannabis, from CBN and CBG, moving past THC and CBD to learn from the rest of the plant."
Don't Worry - One Thing Won't Change...
With so many changes just around the corner, the quality, credibility, and flavor of Colorado's Best Drinks is one constant you can count on. Our products all contain phytocannabinoid-rich, broad spectrum hemp extract and can be delivered right to your doorstep. All five flavors of our hemp CBD beverages are delicious and refreshing. Better yet, each sparkling CBD soda and CBD water flavor is vegan, non-GMO, and free of gluten, sodium, and preservatives. PCR hemp extract is one of just five ingredients in every sparkling CBD soda can, and you'll taste that sweet simplicity with every sip. We now carry 12-packs and 48-packs of assorted flavors - pleasing the palates of your loved ones all year long.