Seven Sparkling CBD Valentine's Day Drinks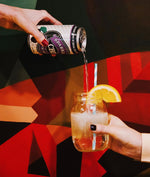 Love is in the air, Beverage Blog readers. That's right - Valentine's Day 2021 is right around the corner. There's no better time to share a nightcap with someone you hold dear. To help you celebrate safely at home, the CBD Beverage Blog writers are here with our favorite Sparkling CBD drink recipes. Sample this selection of specialty cocktails to find the perfect pick for you and yours.
Sparkling CBD Pucker Punch
Serves: Eight
If you're planning to entertain this Valentine's day, there's no better choice for your gathering than Sparkling CBD Pucker Punch. This sweet and simple crowd-pleasing cocktail takes just three easy steps to make, and it's sure to be a big hit.
What You'll Need:
Sugar (for rimming glasses)
Lemon, sliced into wedges (for rimming glasses)
Three cups pink lemonade
One (750ml) bottle moscato
One cup thinly-sliced strawberries
One can Sparkling CBD Lemonade
Eight ounces vodka
Ice
How It's Made:
Rim each glass with a lemon wedge, then dip into sugar.
In a large punch bowl or pitcher, blend pink lemonade, Sparkling CBD Lemonade, vodka, and sliced fruit. Add ice and stir until the punch is well-blended.
Divide Pucker Punch into glasses.
Serve and enjoy!
Black Cherry Caribenos
The rich, refreshing blend of flavors in Black Cherry Caribenos are sure to satisfy your sweet tooth. There's no better beverage to toast the sweetheart in your life.
Serves: Two
What You'll Need:
Three ounces dark rum
Half of one Sparkling CBD Black Cherry Soda can
One ounce lime juice
One ounce lemon juice
Dash of grenadine
Lemon wedge
How It's Made:
Pour lemon juice, lime juice, rum and Grand Marnier into a cocktail shaker with ice, then shake for five seconds.
Pour into two chilled wine glasses or fluted glasses.
Top off each glass with Sparkling CBD Black Cherry Soda.
Add a dash of grenadine to each glass for color.
Add a lemon wedge to the rims of each glass for garnish.
Serve and enjoy!
The R&B
The R&B adds a creamy, boozy twist to our delicious Sparkling CBD Root Beer. Rum & Bailey's perfectly complement Root Beer's rich flavor, resulting in a decadent blend. Throw some R&B on the stereo and start your romantic evening with this instant classic cocktail of the same name. We're confident that the R&B will be the second sweetest part of your evening - second only to your Valentine.
Serves: Two
What You'll Need:
One can Sparkling CBD Root Beer
Four ounces dark spiced rum
Two to four ounces Bailey's Irish Cream
Crushed ice
How It's Made:
Fill two glasses with crushed ice.
Divide a can of Sparkling CBD Root Beer evenly between both glasses.
Add two ounces of dark rum to each glass, stirring gently to blend.
Top off each glass with Bailey's Irish Cream, stirring gently.
Serve and enjoy!
Whiskey Me Away
This cocktail couples Sparkling CBD Cola and whiskey with the perfect blend of sweet and sour flavoring. Make this for your next nightcap - it's sure to sweep you off your feet.
Serves: Two
What You'll Need:
Four ounces rye whiskey
Two cans Sparkling CBD Cola (OR 1 can Sparkling CBD Cola, 1 can Sparkling CBD Black Cherry Soda
One pint cherries
One half-ounce freshly squeezed lemon juice
Ice cubes
Empty ice cube tray
How It's Made:
In a mixing bowl, blend one and a half ounces of rye whiskey and a can of Sparkling CBD Cola. Cover bowl and let chill.
Let the remaining Sparkling CBD soda flatten.
Pour remaining Sparkling CBD soda into an ice cube tray, then freeze.
Grab two old-fashioned glasses. Add five cherries and one ounce of the whiskey-cola blend to each.
Muddle the cherries.
Add plain ice, two and a half ounces rye whiskey and half an ounce of lemon juice to a cocktail shaker. Shake vigorously.
Strain the blended cocktail into both glasses with the muddled cherries. Add 4-6 cubes of frozen Cola (or Black Cherry) to each.
Serve and enjoy!
The Ginger Rogers
Ginger Rogers is best known as an Academy Award-winning 1930s film star, whose showstopping performances made her a romantic icon of her day. While the stunning and talented actress married five times over forty years, she was perhaps best known for notorious on-screen romances with fellow film icon Fred Astaire. We hope our Sparkling CBD twist of her namesake cocktail is one for the ages as well.
Serves: Two
What You'll Need:
For Syrup:
Four ounces sugar
Four ounces water
One inch ginger, sliced and peeled
For Cocktail:
Four ounces gin
Four ounces Sparkling CBD Ginger Ale
One and a half ounces fresh lemon juice
One and a half ounces ginger syrup (made separately with above ingredients)
Twelve mint leaves
Two mint sprigs
Two slices fresh lemon
How It's Made:
To Make Syrup:
Mix the water, sugar, and ginger slices in a small saucepan.
Heat the mixture to a boil, stirring throughout to dissolve sugar.
Once sugar has dissolved, remove from heat and let the ginger be infused by syrup for thirty minutes.
Strain the resulting syrup into a glass container. Refrigerate until cool. Syrup can be refrigerated for up to two weeks.
To Make Cocktail:
Divide ginger syrup and mint leaves between two glasses.
With a spoon or muddler, gently crush the mint leaves, releasing their oils.
Add two ounces gin and ¾ ounce lemon juice to each glass. Stir.
Add ice to each glass.
Add a lemon slice and mint sprig to each for garnish.
Serve and enjoy!
Citrus CBD Slushies
Serves: Two
What You'll Need:
Six ounces freshly squeezed grapefruit juice
Three ounces pomegranate juice
Three ounces tequila
One can Sparkling CBD Citrus Water
Basil leaves (for optional garnish)
Ice
How It's Made:
Add ice, grapefruit juice, tequila and pomegranate juice to a large blender, then blend well until the contents reach your preferred consistency.
Using a spoon or ladle, divide the mixture evenly between both glasses.
Add approximately half of one Sparkling CBD Citrus Water to each glass.
If desired, top off each beverage with several basil leaves for garnish.
Serve and enjoy!
Sparkling CBD Hibiscus Spritzers
Serves: Two
What You'll Need:
Ten to twelve ounces chilled rosé
One can Sparkling CBD Hibiscus Water
Frozen raspberries and blackberries (for garnish)
How It's Made:
Divide one can of Sparkling CBD Hibiscus Water evenly between two large wine glasses.
Top off each glass with four to six ounces of chilled rosé.
Add several frozen raspberries and frozen blackberries to each glass for a hint of extra sweetness - and to keep each beverage's contents cool.
Serve and enjoy!
Happy Valentine's Day!
Whatever your plans this Valentine's Day, we're certain that Sparkling CBD cocktails could make your evening even sweeter. No matter the occasion, there's no need for social distancing to stop you from enjoying sweet and satisfying blended beverages. It's easy to craft your own Sparkling CBD non-alcoholic mocktails today and every day of the year! Visit our Sparkling Shop to order a twelve-pack or a forty-eight pack of Sparkling CBD Citrus Water, Hibiscus Water or our other delicious products today. We'll bring a case to your doorstep- ready to savor straight from the can or in these delicious drink recipes. All five flavors of our sparkling CBD sodas (and our two flavored Sparkling CBD water options) are delicious and refreshing. Our products all contain phytocannabinoid-rich, broad spectrum hemp extract. Better yet, each sparkling CBD beverage flavor is vegan, non-GMO, and free of gluten, sodium, and preservatives. PCR hemp extract is one of just five ingredients in every can of Colorado's Best Drinks, and you'll taste that sweet simplicity with every sip.