National Cherry Month: Exploring the Fruit's Rich History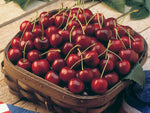 That's right readers, it's finally here – February is National Cherry Month!
As we've discussed in a prior article, the National Day Calendar provides worthy causes with their own national holidays. Applicants with a vested interest in any given subject or charitable cause pitch their case to the National Day Calendar's presiding committee. The organization awards recognition to less than one percent of proposed causes by declaring a new national holiday in their honor – dubbing a day, week, or month of spotlighted celebration. From National Lost Sock Memorial Day to National Sneak Some Zucchini Into Your Neighbor's Porch Day, the range of National Holidays is as surprising as it is diverse.
National Cherry Month was originally established to bring awareness to the delicious fruit's yearround availability. While cherries are generally eaten in the dog days of summer, cherries can be savored throughout the year in a variety of tasty forms.
Where Do Cherries Come From?
Cherries grow naturally in the wild, and they have been domesticated for centuries. Fossilized cherry pits have even been found within Stone Age caves throughout Europe. The word "cherry" stems from the small former city of Cerasus, Greece – which is now Giresun, Turkey. This is the first documented location of cherry growth. While cherries may have been named for the town, some historians believe that the reverse is true – with Cerasus taking its name from the fruit produced and beloved by its early citizens.
From there, cherries were exported to Europe. Romans cultivated the fruit shortly after its expansion throughout early Greece, and it quickly became a staple of Roman Legionanaires' regular diet. While cherries are popular around the world today, Turkey remains the top producer of cherries internationally. The U.S. briefly led the world in cherry production in the late 1980s, but Turkey regained its title from there. Today, Turkey produces more than a billion pounds of cherries each and every year.
Several varieties of cherries were subsequently brought to the eastern United States from Europe in the 1600s. Spanish missionaries brought sweet cherries to California when they migrated in the 1630s. Fur traders and pioneers then spread the Californian imports throughout the Western region of North America. Tart cherries are native to Asia Minor, and were also imported to the United States by early settlers shortly after other varieties.
What Are Cherries Used For?
While most popular types of cherries were brought from regions around the world, black cherries and chokecherries are believed to be native to North America. Both types were popular amongst early residents of the Great Plains. Cherries were often used in pemmican - a paste made primarily of meats and fats, used by settlers and Native Americans for emergency rations. Black cherries were also a crucial ingredient of early Americans' widespread version of cherry bounce, a tasty cherry cordial which was popular throughout the 18th and 19th centuries. Cherry bounce was made by blending crushed black cherries with the best available alcohol in given regions throughout the U.S., from bourbon in Louisiana to New England's best brandy and rum.
Maraschino cherries were developed in the 19th century, by placing Marasca cherries in ocean water brine. A specialty liqueur was derived from a careful concoction of ground up leaves and cherry pits, blended with the cherry's naturally sweet juices. Marasca cherries are native to Croatia. However, their growth within this region were limited. As maraschino cherries quickly rose in popularity, producers of Marasca cherries struggled to keep up. By the time imported marischino cherries reached the United States, most creators were meeting the public's demand by using cheap cherries, additives and even dangerous chemicals for their creation. In response to these dangerous knockoffs, the Food and Drug Administration released a warning to the public in 1912, and an accompanying guide to distinguish pure cherries from adulterated imitations. In 1922, an Oregon-based grower developed a brining technique that's both safe and effective using food coloring, sugar, and calcium salts. His simple recipe remains popular to this day.
How Are Cherries Used And Celebrated Today?
American horticulturalists currently grow more tart cherries than sweet ones, as tart cherries show greater resilience in the face of weather changes. Thankfully, modern cherry growers have access to an extensive selection of cherry types, so they can carefully choose to grow types of cherries that thrive within the climate of their region. Selective breeding allows for types best suited for local growth to become more popular. German cherry varieties are increasing in popularity throughout the United States, as these are shown to thrive and produce high yields in climates across America.
The National Cherry Blossom Festival takes place every February in Washington D.C. The local celebration dates back to 1912, when the mayor of Tokyo gifted the United States with three thousand cherry tress, as a symbol of solidarity and friendship between the nations. Since then, cherry blossoms burst into bloom throughout our Nation's capital every year around the start of February. This makes February the perfect time to celebrate the delicious flower and delectable fruit with everything from pie-baking contests to pit-spitting showdowns.
Cheers to Cherries!
In honor of National Cherry Month, we raise a can of Sparkling CBD Black Cherry Soda to cherries. With a history as rich as the black cherry flavor itself, it's no wonder cherries have been celebrated for centuries of global history – and we're certain they'll be loved for many more. Our products all contain phytocannabinoid-rich, broad spectrum hemp extract and can be delivered right to your doorstep. All five flavors of our hemp CBD beverages are delicious and refreshing. Better yet, all five flavors of sparkling CBD soda are vegan, non-GMO, and free of gluten, sodium, and preservatives. PCR hemp extract is one of just five ingredients in every sparkling CBD soda can, and you'll taste that sweet simplicity with every sip.