Six Black Cherry CBD Drink Recipes & Cherry-Picked Fun Facts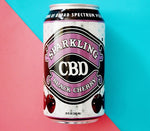 February is National Cherry Month! To honor the occasion, the Beverage Blog team at Colorado's Best Drinks has cherry-picked our favorite fun facts about the fruit. We've also put our Sparkling CBD twist on six specialty cocktail recipes - each of which includes one-of-a-kind Black Cherry CBD Soda. Read on to learn a few highlights of the cherry fruit's fascinating history - or skip ahead to start concocting any of our six delicious CBD drink recipes right away.
First, Let's Think Cherries...
Enrich your knowledge about countless Americans' favorite fruit with these six interesting facts and stories about cherries.
Did Our First President Kill That Cherry Tree?
You've likely heard the tale as old as America itself – George Washington, the Father of our Nation, was given a hatchet by his own father in his younger years. As the story goes, Washington used his gift to chop down a cherry tree – not yet realizing the taboo of this act. When called out by outraged onlookers, Washington immediately confessed to his faux paux – famously quipping that he "cannot tell a lie," regardless of the infamy his honesty earned.
Few people realize that this classic story is not only misquoted quite often – Washington's famous tale of honesty was a lie from the very start. In 1799, following the death of our first president, the public craved any information on Washington that they could get their hands on (keep in mind that the onset of the internet was still centuries away). Mason Locke Weems seized this opportunity to release the first biography of Washington's fascinating life of liberty – while taking some liberties of his own with the story's details. Weems eloquently described young Washington's hunger for something to hack with his new ax, frequently targeting his mother's pea plants and other small exploits before removing the bark of a nearby cherry tree. While Washington's mission was thoroughly executed, Weems explained that the remaining vulnerability of the fully-barked cherry tree ruined its chances for healthy growth. While this story never actually happened, the fascinated public couldn't get enough of this and other fables, hence the proliferation of the story for the next two hundred years.
Did Cherries Kill President Taylor?
While Washington didn't actually kill that cherry tree, cherries may have killed a later President, Zachary Taylor. At a Fourth of July celebration in 1850, Zachary Taylor took a leisurely stroll through our Nation's capital before settling in for a glass of warm milk and a big bowl of fresh-picked cherries. However, he quickly developed severe stomach cramps and within days he was dead. Experts presume Salmonella was present in the cherries or milk he consumed, as the 1800s weren't exactly known for the food sanitation or safety standards we've implemented since. Rest in peace, President Taylor. Thankfully, we can safely enjoy cherries and beverages - and Black Cherry CBD beverages - today with detailed information on exactly what we're drinking.
Cherries By The Thousands
Approximately twenty types of cherries are produced for commercial sale and consumption for the public to enjoy. However, more than a thousand different types of cherries exist today – with more than 500 sweet varieties and just as many tart ones. In other words, only two percent of cherry types deemed to be the tastiest make their way to the shelves of farmers markets and retail stores. Talk about cherry picking!
Washington State produces roughly 62 percent of sweet cherries sold throughout the United States. Sweet cherries are most popular during the summer time, when they're ripe for raw consumption. Oregon, California, and Washington collectively produce 94% of the nation's sweet cherries. Tart cherries – which are most commonly used for cooking – stem primarily from Michigan farms. In fact, more than half of the country's tart cherries are grown in Michigan.
This Record Caused a Spit-Take
From the Kennedys to the Fords, some families make history together with their contributions to society or uncanny talent. Such is the case for the Krause family, who've smashed world records as unprecedented cherry-pit spitters. At Eau Claire, Wisconsin's annual competition, Brian showcased his skills with an unprecedented pit-spit of 93 feet. His father and brother held cherry pit-spitting records before passing the family torch to Brian.
The Art of Cherry Harvesting
A single cherry tree produces an average of 7,000 cherries. Rather than waste time picking cherries individually, most modern growers use mechanical shakers to separate cherries from their branches. These shakers grip the tree and rattle it intensely, loosening the cherries until they fall to a tarp below, which then feed onto a conveyer belt to be sorted and eventually packaged. Check out this video to see the process in action.
Bing Cherries Weren't Named For Bing Crosby
Contrary to popular misconception, Bing Cherries owe their name to a different source. Cherries of this type are the namesake of orchard foreman Ah Bing (whose name I'll forever envy). Bing collaborated with fellow farmer Seth Lewelling to cultivate the rich, red bing cherries we still know and love today. As legend has it, Ah Bing supervised thirty workers at the Lewelling nursery as a gifted horticulturalist. Sadly, The Chinese Exclusion Act of 1882 demanded Bing's deportation and barred his ability to return. Lewelling popularized their collaborative dreamchild throughout the United States after naming the fruit in his partner's honor.
Next, Let's Drink Cherries!
Want to unwind with a sweet and satisfying nightcap from the comfort of home? Try Colorado's Best Drinks' twist on these six delectable CBD drink recipes featuring our beloved Black Cherry CBD Soda.
Sparkling Black Cherry Mojitos
This refreshing CBD twist on the timeless mojito is too sweet to skip. Follow these steps for an easy but elegant end to your evening.
Serves: Two
What You'll Need:
Four ounces white rum
One tablespoon lime juice
One teaspoon cane sugar
6-8 pitted cherries
Approximately two cups ice
One can Sparkling CBD Black Cherry Soda
How It's Made:
Grab two tall glasses, then add mint, sugar, lime juice and cherries to each.
Muddle the contents of both glasses thoroughly, until sugar is mostly dissolved and cherries are smashed.
Add ice to both glasses.
Pour rum into both glasses, stirring gently to mix.
Top off both glasses with Sparkling CBD Black Cherry Soda to fill.
Serve and enjoy!
Black Cherry Sangria
This rich and fruity recipe is sure to hit the spot at any time of the year. Make a pitcher for your next party for a sweet, delicious blend that your guests will surely savor. For optimal results, plan to start this recipe the night before you'll be entertaining.
Serves: Six
What You'll Need:
Two pears
Two oranges
One lemon
Approximately one cup red berries
Approximately one tablespoon lemon juice
One teaspoon cinnamon
Three tablespoons caster sugar
750ml bottle light red wine
100ml Spanish brandy
One can Sparkling CBD Black Cherry Soda
Ice
How It's Made:
Peel and chop both oranges and one lemon.
Add chopped fruit to a large bowl.
Sprinkle sugar and cinnamon over the chopped fruit. Stir to coat.
Cover the mixture, and place it in your fridge to macerate for an hour or more (preferably overnight).
After sufficient time has passed, remove your fruit mixture from the fridge. Stir blend once more to ensure that sugar has dissolved thoroughly.
Fill a large pitcher or jug with ice, then add fruit mixture.
Add lemon juice, brandy, and wine to jug, then blend thoroughly.
Before serving, top up with one can of Sparkling CBD Black Cherry Soda.
Serve and enjoy!
Black Cherry Bourbon Smash
As the name suggests, this careful blend of bourbon and Black Cherry CBD Soda is sure to be a smash hit!
Serves: Two
What You'll Need:
Two ounces bourbon
One ounce simple syrup
Ten cherries
One can Sparkling CBD Black Cherry Soda
Ice
How It's Made:
In a small bowl, muddle the cherries.
Fill two glasses with ice.
In a cocktail shaker, combine bourbon, simple syrup, cherries and ice. Shake vigorously until well-blended.
Pour mixture into both glasses.
Top both glasses with Sparkling CBD Soda.
Serve and enjoy!
Black Cherry CBD Limeade
If you're craving something a little more sour, try our tart and tasty Black Cherry CBD Limeade.
Serves: Two
What You'll Need:
One can Sparkling CBD Black Cherry Soda
Six ounces vodka
Three ounces lime juice
Two ounces black cherry juice (optional)
Two ounces sweetened lime juice (like Rose's)
Lime wedges and marischino cherries
How It's Made:
Take two large glasses and place in freezer for a minumum of thirty minutes (and maximum of four hours) if chilled glasses are desired.
Add all ingredients except CBD Soda to a cocktail shaker.
Shake well until well-blended.
Grab two drinking glasses (from freezer if chilled prior to preparation). Strain mixture into both glasses.
Top off each glass with Sparkling CBD Soda. Repeat this step as desired.
Serve and enjoy!
Chocolate Cherry Mimosa
Looking to really satisfy your sweet tooth tonight? There's no better way to hit the spot than our chocolate cherry minosas. This decadent blend of chocolate and cherry flavors is sure to be your next go-to guilty pleasure.
Serves: Four
What You'll Need:
One Can Sparkling CBD Black Cherry CBD Soda
Four ounces Chocolate Cherry Liqueur (like JDK + Sons)
Four or more cherries (for garnish)
Lemon Twist (for garnish)
How It's Made:
Grab four champagne flutes (or wine glasses if preferred)
Add one ounce of Chocolate Cherry Liqueur to each glass.
Divide can of Black Cherry CBD Soda evenly between four glasses.
Drop a cherry or two into each glass for garnish.
Add a lemon twist to each glass if desired.
Serve and enjoy!
Black Cherry Bellinis
Whether you're seeking the perfect addition to your Sunday brunch plans, or a complementary cocktail for a romantic home-cooked dinner, bellinis are the perfect choice. Try our Black Cherry CBD variety for a simple twist.
Serves: Four
What You'll Need:
Two ounces sugar
Two ounces water
One cup cherry juice (unsweetened or black)
One can Sparkling CBD Black Cherry Soda
1/2 bottle sparkling wine
How It's Made:
Add the sugar and water to a small saucepan. Bring blend to boil over high heat until the sugar dissolves (approximately five minutes).
Remove simple syrup mixture from heat, then transfer to a bowl or measuring cup.
Place in refrigerator to cool for approximately thirty minutes.
Blend half of the chilled simple syrup with sparkling wine and Black Cherry CBD Soda. Mix well. Taste, and add more simple syrup as needed until desired sweetness is reached.
Serve and enjoy!
Cheers to Cherries and Sparkling CBD Soda!
In honor of National Cherry Month, we raise a can of our rich, flavorful Sparkling CBD Black Cherry Soda to cherries. All five flavors of our hemp CBD sodas - and two tasty Sparkling CBD Water options - are delicious and refreshing. Our sparkling CBD waters and soda products all contain phytocannabinoid-rich, broad spectrum hemp extract and can be delivered right to your doorstep. Better yet, each flavor of sparkling CBD water and soda is vegan, non-GMO, and free of gluten, sodium, and preservatives. PCR hemp extract is one of just five ingredients in every can of sparkling sodas and waters by Colorado's Best Drinks, and you'll taste that sweet simplicity with every sip.