Nine Perfect Occasions for CBD Beverages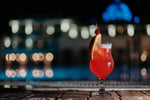 Fans of our Sparkling CBD sodas and waters can enjoy their favorite flavors on any occasion - from a backyard barbeque to a lazy day in bed.
Let's take a little tour through some of our favorite activities to explore while sipping Sparkling CBD beverages!
Picnics
Imagine: you have your blanket, fruit, cheese and crackers, and are surrounded by friends. Soft grass cushions you and the sun is beating down.
Now pair that with our Sparkling CBD Hibiscus Tea. Our magenta pride and joy, you will find that the rich taste and tartness of this delicious Sparkling CBD tea flavor perfectly complements the beautiful nature surrounding you.
Sit back, relax, and drink summer in a can!
Next to the Pool
You've just gone for a dip and now it's time to lounge. Well, nothing says poolside relaxation quite like iced tea and lemonade.
Bathe in the sun with our Sparkling CBD Lemon Iced Tea. You'll get that taste of lemonade - a summertime classic - along with the deeper notes of black tea. Sweetened perfectly with organic agave nectar, it's sure to satisfy your taste buds.
This may be our most refreshing Sparkling CBD beverage because of its ingenious balance of iced tea and lemonade - combining to form the perfect drink for fun in the sun.
Date Night
Whether you have your eyes set on someone new or you've been in a relationship for years, our Sparkling Sparkling CBD Black Cherry soda is likely to impress.
Maybe you're out at a bar and want to surprise them with a special date-night drink, or perhaps you're going on a walk in the park with your beloved. No matter what, serving this unique soda flavor is a simple way to show off your excellent taste.
The punching black cherry flavor has a surprisingly full body and clean finish. While chit-chatting about your dreams, goals, and aspirations, you can sip on this drink together and bond over how delicious it is.
Barbeques
You've gathered all of your buddies, thrown some hot dogs on the grill, and are ready to have a great night. You're playing wiffle ball, corn hole, and badminton. You've got the perfect array of snacks, and everyone is having a good time.
Maybe you're celebrating a birthday or graduation, or are just looking for some summer fun. No matter the reason, barbeques are always the answer, and there's no better way to bond with friends and family than getting outside and playing some games.
All that running around is bound to make you thirsty! And if you have a competitive streak, it will probably be helpful to have something to sip on.
Our Sparkling CBD Cola's flavor is simultaneously unique and familiar, making it an excellent drink option to offer guests at your next gathering. There's need to take our word for it - you can order a 12-pack of Sparkling CBD Cola online to bring to your next barbeque!
Feeling Under the Weather
Who doesn't love ginger ale when they're feeling down? Whether you're battling a cold, an upset stomach or a bad case of the Mondays, cracking a can of Sparkling CBD ginger ale soda could provide some well-deserved comfort.

Consider bunkering down with some grounding, spicy ginger ale soda featuring natural ginger extract. You can even use a straw to sip Sparkling CBD Ginger Ale while watching your favorite movie in bed.
Around the Bonfire
The stars are shining above you and the sparks of the fire are rising up to reach them. You're making smores, your friend is strumming their guitar, and life is good.
The only thing that could make your night better is the delicious taste of root beer. With sassafras, vanilla, birch, and a touch of wintergreen, our Sparkling CBD Root Beer's deep richness and complex flavors make it a fantastic fireside drink option. You can raise a can of Sparkling CBD Root Beer to toast your buddies and enjoy our amazing twist on root beer's classic flavor.
Post-Workout
You've just had the best workout of your life. Sweat is pouring down your face, your muscles are feeling the burn, and you're thirstier than ever.
Looking for a delicious drink to hit the spot post-workout? We'd recommend trying our Sparkling CBD Citrus Water! The flavor's blend of lemon, lime, and mandarin orange flavors could be the perfect combination to refresh the tastebuds as you recharge. Better yet, Sparkling CBD Citrus Water has zero calories and zero grams of sugar per can. Pair it with your favorite power snack and you're good to go!
New Years
For a unique addition to your next New Year's Eve celebration, order a 12-pack or 48-pack of Sparkling CBD Assorted Sodas!
Your friends and family can sample our variety of Sparkling CBD water and soda flavors as you all stay up late and celebrate. With two Watermelon, Colas, Roots Beers, Lemonades, Ginger Ales, and Black Cherry Sodas in every 12-pack of assorted Sparkling CBD sodas, your guests can enjoy their choice of flavors while watching the ball drop.
Final Thoughts
Now that you've picked our brains, you should have some good ideas for what each of our drinks was designed to compliment.
But it doesn't stop there! Maybe you want Root Beer at the barbeque, or Lemonade when you're feeling sick. Our flavors are complex and versatile, so it's impossible to box them into a single purpose. Visit our online store to browse our selection of Sparkling CBD beverages for every occasion!