Six Spooky Sparkling CBD Cocktails to Make This Halloween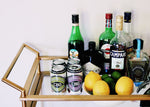 The witching hour is lurking close at hand – with many of us counting down the days. Halloween indulges our inner children with celebratory dress-up and make believe, while channeling the thrills of fright and magic. Costume ready? Candy bought? All that's left is a bit of well-brewed potion for the perfect Halloween nightcap. Channel your inner witch or wizard with a cauldron (or a cup) of Sparkling CBD's top Halloween cocktails.
Jack-O-Lantern and Ginger
Serves: One
Add an autumn twist to the classic blend of Jack-and-ginger by blending in a little hard cider. 'Tis the season for this tasty blend, Halloween or not.
What You'll Need:
Two ounces hard cider
One ounce whiskey
One Can Sparkling CBD Ginger Ale
Crushed ice
How It's Made:
Using a high-ball glass or a tall tumbler, blend the hard cider and whiskey together well. Fill the glass with your crushed ice. Slowly pour a can of Sparkling CBD Ginger Ale to fill. Simply double the recipe to enjoy with a partner.
The Tootsie Pop
Serves: Two
Being too old to trick-or-treat shouldn't mean your candy days are over. Add some sinful sweetness to your evening with this delectable CBD drink.
Blend the rich flavor of a tootsie roll with some sparkling soda-pop fizz. This candy-like cocktail is easy to blend, and the payoff couldn't be much sweeter. Multiply quantities of these ingredients as needed to serve at larger gatherings, or blend as described to sip with your sweetheart.
What You'll Need:
Four ounces Kahlua coffee liqeur
Sparkling CBD Root Beer
Ice cubes
How It's Made:
Fill two tall glasses with ice. Pour two ounces of Kahlua into each glass. Then, slowly pour in Sparkling CBD Root Beer – to the brim, or desired fill. Serve with a straw for the optimal experience.
Dark and Stormy Night-Cap
Serves: Two
Stay warm indoors through the stormiest of weather with our CBD-infused twist on an old classic.
What You'll Need:
Four ounces dark rum
One ounce fresh lime juice
Ice
Two slices candied ginger
Half a can of Sparkling CBD Ginger Ale
One lime wheel
How It's Made:
Grab a cocktail shaker and fill it with ice. Add lime juice and rum, and shake vigorously. Pour in Sparkling CBD Ginger Ale. Pour into two tall glasses, and top them off with the lime and ginger slices for garnish.
Vampire Kiss Martini
This delicious CBD drink is Dracula-approved, with a sharp flavor that's too tempting to resist. Other options pale in comparison.
Serves: Two
What You'll Need:
Six ounces vodka
Two ounces raspberry liqueur (Chambord, divided)
Four to six ounces Sparkling CBD Black Cherry Soda
Red sugar (optional)
How It's Made:
While this concoction is much more complex than others we've described, those who aren't scared off easily will attest that the taste is worth the trouble. To start, rim two tall cocktail glasses with red sugar. Measure one ounce of raspberry liqueur (saving the remaining half for later). Divide the vodka and ounce of raspberry liqueur between both glasses, blending them well. Top with your desired amount of Black Cherry CBD soda.
Finally, add that last ounce of Chambord liqueur by pouring it over the back of a spoon – making it float on the surface of each craft CBD cocktail. Enjoy!
Phantasm Pucker Punch
This bubbly lemon blend packs a surprise punch that few could resist. It's sure to be a hit, Halloween or not. Not throwing a party this year? Divide the listed quantity for each ingredient by four to make enough for you and yours, or keep the recipe on hand for your next big Halloween bash.
Serves: Eight
What You'll Need:
Four ounces granulated sugar
Ten ounces gin
Half can of Sparkling CBD Lemonade
Two ounces fresh lemon juice (add more to taste if desired)
Twelve ounces fresh grapefruit juice
Six ounces sweet vermouth
Twenty ounces sparkling wine OR Two cans Sparkling CBD Black Cherry Soda
Three thin-sliced grapefruit wheels (optional – for garnish)
Ice
How It's Made:
In a large pitcher, blend the sugar into Sparkling CBD Lemonade until the sugar fully dissolves. Blend the gin and vermouth with the lemon and grapefruit juices. Refrigerate until chilled (one hour is optimal in my experience). Afterwards, transfer the brew to a large bowl. Gently mix in both cans of Sparkling Black Cherry soda, and float the grapefruit slices for garnish. Serve in glasses over ice.
Midnight Curse
Serves: Two
What You'll Need:
Three ounces Bacardi Superior Rum
One teaspoon ginger puree
Half ounce of cherry liquor
Dash of edible glitter or red luster dust
Half can of Sparkling CBD Cola OR Sparkling CBD Black Cherry
How It's Made:
Blend everything but the CBD beverage thoroughly in a cocktail shaker or pitcher filled with ice. Pour the resulting concoction into two glasses (add more ice before pouring if desired). Top off each with Sparkling CBD Cola.
Have No Fear - Just Say Cheers!
Has Halloween come and gone? Fear not - these cocktails are sure to bring a little magic to any night of the year. Our products all contain phytocannabinoid-rich, broad spectrum hemp extract and can be delivered right to your doorstep. All five flavors of our hemp CBD sodas are delicious and refreshing. Better yet, each sparkling CBD soda flavor is vegan, non-GMO, and free of gluten, sodium, and preservatives. PCR hemp extract is one of just five ingredients in every sparkling CBD soda can, and you'll taste that sweet simplicity with every sip.