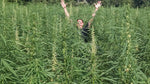 More than 2,900 farmers were licensed to grow hemp within the state of Tennessee as of 2019. According to the Tennessee Department of Agriculture, that figure represents an increase of more than 1,100% in a single year, with only 226 total applications submitted in 2018. Five or more farms can legally grow more than 1,000 total acres of hemp. Needless to say, this sharp rise in hemp farming speaks volumes as to the assessed marketability of broad spectrum hemp, and to the overall appeal of those looking to profit from this cash crop. Nevertheless, some seasoned farmers are concerned that farmers who are still green to the agricultural field may be taking on more than they can manage. Hemp is now legal to grow and market in the United States, as per the provisions a government pilot program. The pilot program has been implemented by the West Tennessee AgResearch and Education Center, which is located in Jackson, Tennessee. Hemp's growth is helping to support their research. The surge in hemp's popularity was also made possible by the 2018 Farm Bill. Prior to the Farm Bill's passage, only 130 total acres of hemp were grown by farms statewide. But within six short months of its passage, the acreage of Tennessee hemp has skyrocketed from 130 to almost 5,000 acres of hemp. These figures were released by The Department of Agriculture, in response to a Tennessee state public records request.
Meeting Demand
The impressive profitability of hemp has inspired many farmers to seize the unique opportunity of hemp growth. Hemp is currently in high demand by the American public and manufacturers seeking such a sustainable, eco-friendly material for the development of a wide range of product types. Hemp is commonly used to create rope, cloth, and construction materials, and phytocannabinoid-rich hemp extract can be used as an additive to a variety of products. While there are high rewards possible with successful yields of hemp, there are also considerable risks if the crop's largescale growth is managed less successfully. Many of these farmers have spent years learning the ins and outs of industrial farming, and in recent years, many have focused on the process of successfully growing large crop yields of hemp. Some of these same farmers have voiced concerns that hemp growth is rising too sharply, and that some newer farmers may be overly optimistic about their ability to successfully produce large quantities of hemp. One Springfield, Tennessee farmer, Bill Corbin, has spent years growing hemp in the state of Tennessee, and honing his own skills to do so with optimal results. Said Corbin of the booming rise, "It's like a new gold rush, and that's not really a good thing. When that many people come into play so quickly, there are so many naive and gullible growers that are going to sign up with people who will promise them the moon."
New Jobs with New Challenges
As with any new job, hemp farming has an undeniable learning curve that must be mastered for optimal results. Obtaining and maintaining farming best practices, a sizeable customer base, and skilled processors all take experience and significant effort. While newer local farmers catch up in these regards, experienced local professionals seem to agree that the industry is likely to evolve rapidly. One Tennessee company embracing hemp is Green Acres Ventures, the brainchild of Adam Knapp of Steamboat Springs, Colorado and Memphis, Tennessee native Steven Medlock. Medlock is an attorney with Tennessee's state regulatory department. Meanwhile, Knapp works for a Colorado-based company that was founded in 2009. A decade later, Knapp's company grown from humble origins to a 90,000 square foot operations base in Colorado, with 70 employees and 36 growing rooms. As the Tennessee climate differs from that in the arid elevations of Steamboat Springs, the Green Acres team will face a learning curve of their own. But with their extensive collective expertise on issues pertaining to the agricultural and legal management of hemp growth, their partnership is a promising one in the Tennessee hemp game. While Green Acres company started out growing hemp on outdoor land, they've since transitioned to an adapted milk farm building. They've noted that Tennessee's notorious conservatism is a major challenge for the hemp market, which still faces unfounded stigma and scrutiny for its classification as a cannabinoid. "There is still a very negative connotation by people who are uneducated about the industry," stated Medlock. "That is one of the biggest challenges with acceptance in the South." The cultivation of hemp offers great potential for sustainable growth at large, and the demand and feasibility of its growth are sharply rising. Despite potential pitfalls along the way, the industry of hemp-infused products is expanding quickly with plenty of room to grow.
Every Sparkling CBD beverage flavor contains phytocannabinoid-rich, broad spectrum hemp extract and can be delivered right to your doorstep. Better yet, each refreshing product from Colorado's Best Drinks is vegan, non-GMO, and free of gluten, sodium, and preservatives with five (or fewer) ingredients per can.