Simple Ways to Lighten Eight Calorie-Dense Cocktails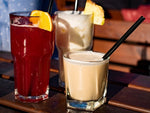 Sometimes, you just want a cocktail. There's nothing better than laying back, relaxing, and sipping on a classic!
But if you're on a diet, your cocktails may be doing more harm than good. So how do you indulge without taking on so many calories?
We've put together eight of the most calorie-dense cocktails and come up with ways to lower their count- both by including our CBD drinks and swapping out other ingredients.
Who knows, these altered versions just might become your new favorite!
Margarita
Margaritas are made of tequila, lime juice, and orange liqueur with salt on the glass's rim. It's served on the rocks, frozen, or straight up.
Let's mix up the recipe to make it a Skinny Margarita! It'll make you feel like you're right there on the beach, soaking up some rays.
This adjusted margarita is made from tequila blanco, fresh lime juice, and sparkling water. You can use our sparkling CBD beverages to add some extra flavor too! Our Sparkling CBD Citrus Water would certainly compliment the lime well.
Sweeten with agave nectar and you're all set to go!
Long Island Iced Tea
Long Island Ice Teas are made from gin, triple sec, light rum, tequila, and vodka. No iced tea here! Add a splash of cola to complete the drink.
This drink has about a 22% alcohol content- higher than most, so watch out!
Use one of our sparkling CBD sodas to make the drink burst with flavor. Our classic CBD Sparkling Cola would do just the trick. Add more than just a splash to lower the alcohol content and up the taste!
White Russian
A White Russian is made of vodka, coffee liqueur, and cream served in a rock glass on ice. Popularized by The Big Lebowski, this drink is now a classic…and known for its calorie count!
The Skinny White Russian cuts down on the heavy calories of this drink without sacrificing flavor or creaminess.
Swap out the cream for a non-dairy creamer. That's all there is to it!
Substitute the coffee liqueur with cold coffee and leave out the vodka to turn it into a mocktail.
Piña Colada
Piña colada translates to "strained pineapple". It's made of rum, pineapple juice, and coconut milk or cream of coconut. It's either shaken with ice or blended. Sometimes it's garnished with a maraschino cherry, pineapple wedge, or both.
The most obvious way to cut down on this drink's calories is to use coconut milk instead of cream of coconut. It won't be as creamy, but the taste will stay the same!
Change things up by swapping the pineapple juice for one of our sparkling CBD sodas - Lemonade, Black Cherry, or Watermelon! This will give the drink a different fizzy, fruity flavor that might just become your new favorite version.
Champagne Cocktail
A Champagne cocktail is traditionally made with brandy, Champagne, Angostura bitters, sugar, and a maraschino cherry for garnish.
Use our Lemonade sparkling CBD soda to make a healthier Raspberry Champagne cocktail!
Ingredients include:
¾ cup chilled cranberry juice
1 ½ cups chilled sparkling wine
1 cup CBD Sparkling Lemonade
Ice cubes
½ cup raspberries
Mint sprigs
Mix the liquids together and fill four wine glasses with ice. Pour an equal amount of the cocktail into all the glasses and garnish with raspberries and a mint sprig.
Mai Tai
Being one of the most popular Tiki culture cocktails, Mai Tais are made up of Curacao liqueur, rum, orgeat syrup, and lime juice.
Varieties include orange, pineapple, grapefruit, and other juices instead of lime. They may also have bitters or amaretto, among other things.
Try subbing the orgeat syrup for almond milk to maintain a nutty flavor while cutting down on calories. In addition, you can use any of our citrus CBD drinks instead of lime juice to try different flavors and make it fizzy!
Fog Cutter
The fog cutter is another Tiki classic. Its traditional ingredients include ice, white rum, gin, brandy, fresh orange, and lemon juice, orgeat, Amontillado sherry, and mint sprigs.
The substitutions for the fog cutter are similar to those for the Mai Tai. Seeing as they are both Tiki cocktails, this makes sense!
The orgeat syrup can be replaced with almond milk. The rich nutty flavor will remain, but the calories will be reduced greatly. In addition, almond milk has many vital nutrients and vitamins, adding to this already vitamin-rich drink!
Use our CBD Lemonade Soda to replace the lemon juice for an extra punch of flavor and unexpected fizz!
Cosmopolitan
The Cosmopolitan was blast into the spotlight in the 90s when Sex and the City featured it in nearly every episode. At the time, it might have been the most popular cocktail in the country!
This beloved drink is made out of citron vodka, Cointreau, lime juice, cranberry juice cocktail, and a lime wedge for garnish.
Trade out the lime juice for our CBD Lemonade Soda and the cranberry juice cocktail for our CBD Black Cherry Soda! Trading the cocktail will lower the alcohol content significantly and both substitutions will put new twists on an old favorite.
Final thoughts
With a little creativity, cocktails can not only be lower in calories, but also have some extra fizz and new flavors!
Even though we recommended specific CBD drinks in these recipes, try swapping them out for different ones to change things up.
Cocktails are meant to be fun and playful. So have fun with them- the possibilities are limitless!