Tea A to Z: How It's Made, Trivia and Potential Benefits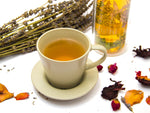 Can't get enough tea? You're in good company. According to a recent report by the Tea Association of the U.S.A. Inc., Americans consumed over 3.9 billion gallons of tea in 2021 alone. On any given day, an estimated 159 million Americans are drinking tea - nearly half of the nation's population. Whether you're staying cool in the summer heat with a cold can of CBD lemon iced tea, or getting cozy on a snow day with a hot mug of oolang, nothing hits the spot quite like tea does. That's why the CBD Beverage Blog has compiled a comprehensive guide to the drink that's beloved across the globe. Read on to learn how tea is made, five interesting facts about the age-old drink, and a few potential benefits of CBD tea consumption.
How Is Tea Made?
Nearly every variety of tea is made from a single species of plant - Camellia sinesis. This small evergreen tree is native to Southern and Eastern regions of Asia and cultivated in tropical and subtropical regions around the world. Camellia sinesis produces fragrant yellow-white flowers and leaves that range from approximately two to six inches in length. It's best suited to grow in acidic soil and climates with significant rainfall. While high elevation isn't required to successfully grow and cultivate the Camellia sinesis plant, teas grown at higher altitudes generally taste more potent. Every type of "true" tea is grown and produced using the same multi-stage process which we've outlined below.
Stage One: Cultivation
Cultivation is the first step of the tea production process. It takes an average of three years for the camellia sinesis plant to produce leaves that are sufficient for tea production. Tea plants are divided by the size of their leaves into three basic groups:
Assam leaves (largest)
Cambodian leaves (medium-sized)
China leaves (smallest)
Tea plants can naturally reach heights of up to fifty feet. However, most growers trim tea plants throughout the cultivation stage to ensure that their heights don't exceed waist-level. Shorter tea plants have higher production capacities as they typically produce more leaves and shoots than their taller counterparts. Limiting tea plants' adult height also makes it much easier to pluck every fresh leaf when it comes time to harvest.
Stage Two: Harvest
After cultivation, tea leaves must be harvested and brought to nearby factories. Only the top one to two inches of tea leaves – known as "flushes" – are plucked from plants at harvest time. Throughout harvest season, flushes take approximately 7 to 15 days to be produced. Harvesters typically pluck tea leaves by hand from tea plantations or tea gardens, gradually adding each new leaf to a large, wicker basket. A tea master carefully inspects each basket after it's been filled. Leaves are weighed and visually assessed to ensure quality. Approximately three-quarters of leaves are discarded – including those that are broken, water-damaged or sun-damaged. The remaining quarter of tea leaves are deemed sufficient for the next phase of production.

Stage Three: Processing
At this stage, unbroken and undamaged leaves from the harvest of Camellia sinesis plants are ready to be processed. All true teas are derived from the same plant type, and flavor variations are created by differences in processing. Depending on the desired flavor, tea leaves can undergo withering, drying, oxidization, firing, shaping, and combinations thereof.
Step One: Withering
After they're brought to the tea factory, leaves selected to become oolong or black teas are withered. For this step, leaves are laid onto trays made of bamboo or flat mesh and left in cool, dry air for a range of eight to eighteen hours. Harvested leaves have a naturally high water content of approximately 75%, which is reduced to roughly 45% through withering, allowing their leaves to be rolled without flaking in later stages of production.
Step Two: Rolling
Tea leaves are rolled to promote oxidization after they've been withered. Rolling used to be done exclusively by hand, but many modern-day manufacturers now use rolling machines for added efficiency. Internal cell structures within withered leaves break down as leaves are rolled. Essential oils are released and react with oxygen, enriching flavor and potency.
There are two oxidization methods in tea-making: the orthodox method and the CTC method. In the CTC (or "crush-tear-curl") method, rolling is done using machinery with hundreds of sharp teeth. This process breaks tea leaves into smaller pieces, most of which are later used in tea bags.
Step Three: Oxidization
"Oxidization" (also known as fermentation) alters the chemical composition of tea leaves' inner enzymes through the addition of oxygen. The same process turns apples brown after you've taken a bite and causes metal to rust.
Tea leaves are withered and rolled prior to oxidization. This prompts their inner enzymes to react with oxygen, which breaks down chlorophyll and releases tannins, creating darker leaves and richer flavors.
Tea producers maintain a moist environment for oxidization at temperatures of 80-85 degrees Fahrenheit. Variations in true tea flavors are a direct result of the total time spent oxidizing leaves. Green tea and white tea are both made without oxidization – progressing directly from rolling to drying as they're produced. This maintains their original light coloration and flavor.
Semi-oxidized teas are made by limiting oxidization to a short period of time. The resulting semi-oxidized flavors (such as oolong tea) are typically yellow or light brown in color with a slightly richer flavor than unoxidized varieties. Teas that are fully oxidized (like black tea) reach a dark, reddish-brown hue and the boldest tea flavors you'll find.
Step Four: Drying
Drying methods are enacted to prevent tea leaves from oxidizing – whether leaves are dried immediately after rolling or after they've reached their desired fermentation level. Leaves may be pan-fried, steamed, or baked in direct sunlight. Regardless of producers' chosen approach, drying is done to reduce tea leaves' moisture content to 2-3% through prolonged exposure to temperatures of over 100 degrees Fahrenheit. Tea leaves are typically molded into the form of small twigs or pellets after drying. Dried green tea leaves may also be ground into matcha powder.
Five Fun Facts About Tea
You're now aware of the intricate process used to produce all varieties of tea. Ready for more tea trivia? Don't worry - we're just getting warmed up! Enjoy a can of Sparkling CBD Lemon Iced Tea along with these five surprising facts about the globally renowned beverage
Tea Dates Back Over 2,000 Years
Legend states that Yan Dynasty Emperor Shennong discovered tea nearly 5,000 years ago in 2,737 BCE by drinking hot water which unintentionally contained tea leaves.
Regardless of that claim's veracity, we can concretely prove tea's existence more than 2,000 years ago. In approximately 141 BCE, Han Dynasty Emperor Jing Di was buried holding a wooden treasure box filled with essentials for the afterlife. Found among Emperor Jing Di's collection of Earth's most coveted treasures were high-quality tea leaves. While records like these show us that tea has been cherished for millennium, historians believe that the drink was loved for its medicinal value alone until almost 500 years later.
Doctors Used to Believe Tea Was Dangerous
Not all doctors endorsed tea's medicinal power. In a 1706 treatise titled "Wholesome advice against the abuse of hot liquors, particularly of coffee, chocolate, tea, brandy, and strong-waters," a French doctor emphasized that excess tea could pose health risks. He claimed that all beverages are warmed once they've entered the human body, and additional warming of the already-hot drink could cause life-threatening harm. John Wesley - a founding pioneer of the Methodist faith - alleged in 1746 that nervous disorders were caused by tea and that rational citizens should go without tea altogether. While many were wary of tea's potential risks, it's worth noting that Ben Franklin and other prominent men of the era swore by alcoholic "small beer" as the optimal breakfast drink.
Herbal Tea Isn't Actual Tea
For anyone looking to get technical, herbal tea isn't made from tea leaves. Therefore, herbal tea isn't considered a true "tea" in the strictest sense of the term. Herbal tea is instead comprised of various spices and herbs along with plants like hibiscus and mint. Technicalities aside, tea lovers throughout the world swear by various herbal tea options as their all-time-favorite tea flavors.
Some Like It Hot…
Research by the Tea Association of the U.S.A. Inc. found that "in 2021, Americans consumed almost 85 billion servings of tea, or more than 3.9 billion gallons. About 84% of all tea consumed was black tea, 15% was green Tea, and the small remaining amount was oolong, white and dark tea." Iced tea reportedly made up 75 to 80% of the tea Americans consumed.
Teabags Changed the Game
Once upon a time, anyone craving a hot cup of tea had to brew an entire pot. In 1908, a tea importer used small, silk bags to package sample sizes of tea, which he then dispersed by mail to the masses. Rather than emptying and brewing the bag's contents alone, recipients used the whole bag to brew a single cup, and the new-and-improved method caught on quickly. Legend has it that the importer eventually switched materials (from silk to gauze), finalizing the form of the modern teabag. Teabags were later provided to soldiers as part of their allotted daily rations, cementing teabags as a staple of the tea-drinking ritual as we know it today.
Lemon Iced Tea: the Latest Sparkling CBD Drink Flavor!
Colorado's Best Drinks recently added a flavor to our product line: Sparkling CBD Lemon Iced Tea. We start each batch by brewing own organic black tea. From there, we add the perfect portion of organic lemonade, naturally sweetened with organic agave nectar. The result is a classic, delectable summertime beverage flavor that tea-lovers can savor throughout the year. Visit the Sparkling Shop to order 12-packs or 48-packs of Sparkling CBD Lemon Iced Tea tea today, or order a package of assorted CBD sodas to try five unique Sparkling CBD drink flavors.